Meet the Fockers **** (2004, Robert De Niro, Ben Stiller, Barbra Streisand, Dustin Hoffman) – Classic Film Review 489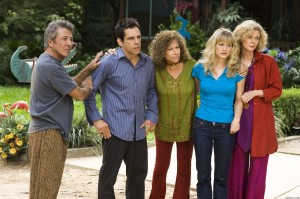 Male nurse Gaylord 'Greg' Myron Focker (Ben Stiller) and his girlfriend Pam (Teri Polo) take his prospective parents (nutty ex-CIA agent Jack Byrnes (Robert De Niro) and nice wife Dina (Blythe Danner) to Florida to meet his hippy parents, a couples' sex therapist (Barbra Streisand) for old folks and her husband, Bernie (Dustin Hoffman), a free-thinking one-time Mr Mom.

A whole comedy built round the joke of Gaylord Focker's name, this 2004 sequel to Meet the Parents (2000) ought to get swiftly tiresome but instead it's constantly amusing. They could have called it Meet the Other Parents, because that is what it is, but then that wouldn't have been nearly so popular.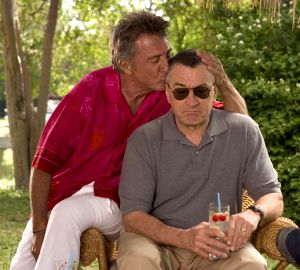 Once more it's the Robert De Niro show – again he's funny and his double act with Stiller is still a winner. Stiller's deadpan style is brilliantly worked over, a hilarious little ball of fire Hoffman really earns his paycheck and Owen Wilson's cameo at the end is priceless. With less to do than the other stars, Streisand's also very effective and really amusing in her first film for eight years, since The Mirror Has Two Faces (1996).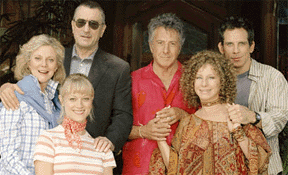 Yes, it's daft and predictable, but the good-natured laughs come thick and fast. They've wisely kept the same team and comedy gold is struck twice. The hilarious, inventive script is again by James Herzfeld and John Hamburg. The director of Austin Powers: International Man of Mystery (1997), Jay Roach, once more handles the direction brightly and expertly.
Second sequel: Little Fockers (2010).
http://derekwinnert.com/austin-powers-international-man-of-mystery-classic-film-review-470/
© Derek Winnert 2013 Classic Movie Review 489
Check out more reviews on http://derekwinnert.com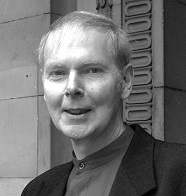 Link to Derek Winnert's home page for more reviews: http://derekwinnert.com/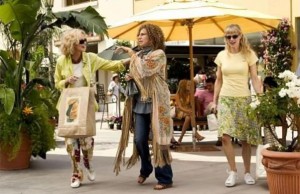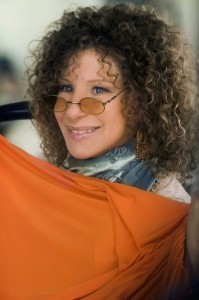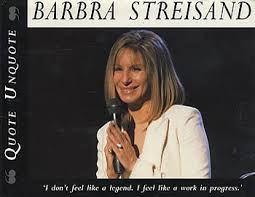 Derek Winnert is the author of Barbra Streisand Quote Unquote.