Mechanic: Resurrection *½ (2016, Jason Statham, Jessica Alba, Tommy Lee Jones, Michelle Yeoh, Sam Hazeldine) – Movie Review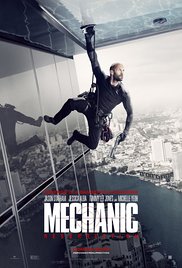 Jason Statham returns as Arthur Bishop in this fast-paced but ludicrous 2016 all-action thriller from German director Dennis Gansel, who does manage plenty of exciting action thrills but no tension or credibility at all. It is a sequel to Statham's 2011 hit, The Mechanic, which I remember being a tiny bit classier.
Hitchcock said the thriller film stands or falls by how good (or bad) its villain is. Unfortunately Sam Hazeldine is flat and unconvincing as Bishop's old foe Crain, who abducts Bishop's new love Gina (Jessica Alba) to force him to undertake three assassinations for him and make them look like accidents.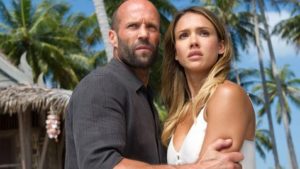 Unfortunately again, Statham takes the minimalist route with his acting, mumbling his dialogue incoherently, maybe because his thought not hearing what he's got to say is the best route with his lines here. Statham gets none of the dry witty dialogue that he can spit out so well, since the Germanic heavy movie neglects to have any humour or wit. So Statham just goes form one kill to the next, killing everyone in sight, until the movie ends. The body count is alarming!
Alba is just there to look decorative, which she does, and get rescued, which she does. As usual, she makes a jolly good job of all this. She even obliges with a gratuitous underwater swim sequence. Michelle Yeoh is around quite a bit at the start of the movie, and gives the impression that she could be up for delivering a serious performance.
It's a very long wait for Tommy Lee Jones to come on but when he does, he cheers things up noticeable, and you can actually hear what's he's saying. He's the last of Bishop's three kills, hence the long wait. The movie is more or less building to its climax at this point, so Jones has way too little to do. It seems like two, maybe three days' work. But it's a classy little cameo.
To try to stoke up some excitement, there's a relentlessly pounding non-stop score by Mark Isham, which seems to have a life of its own. It does not stoke up excitement, but instead has you sitting there listening to it entirely separately from watching the film, possibly even humming along to it.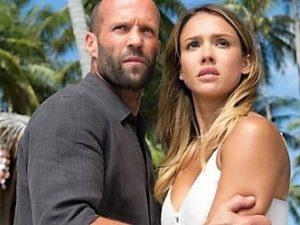 The globe-trotting movie does look good and interesting throughout, thanks to the cinematography by Daniel Gottschalk and supervising art director Aaron Haye. It's a ruthlessly professional job of work, soulless but snappy, dull but with no actual dull moments in all its fast-paced, incisively edited 99 minutes. It looks costly too, with all that globe-trotting, and Alba and Jones probably didn't come cheap. Die-hard action fans are fully catered for – it's just a shame it's so disposable.
© Derek Winnert 2016 Movie Review
Check out more reviews on http://derekwinnert