Me, Myself, I ** (1999, Rachel Griffiths, David Roberts, Sandy Winton) – Classic Movie Review 5313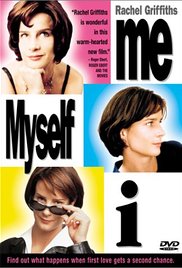 Rachel Griffiths stars as an unhappy, lonely woman called Pamela Drury, whose life is plagued by regrets.
A freak accident gives Pamela the chance to find out what life might have been like if she hadn't rejected her ex-boyfriend Robert Dickson (David Roberts)'s proposal of marriage.
Rachel Griffiths is superb, but she is really the only good thing in writer-director Pip Karmel's shaky, muddled 1999 comedy drama, packed with so much angst you want to turn it off.
Also in the cast are Sandy Winton, Yael Stone, Shaun Loseby, Trent Sullivan, Rebecca Frith, Felix Williamson and Anne Burbrook.
© Derek Winnert 2017 Classic Movie Review 5313
Check out more reviews on http://derekwinnert.com