May We Borrow Your Husband? **½ (1986, Dirk Bogarde, Charlotte Attenborough, Francis Matthews, David Yelland, Simon Shepherd, Claude Coppola) – Classic Movie Review 4871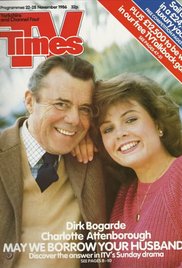 Director Bob Mahoney 1986 British TV movie for Yorkshire TV stars Dirk Bogarde as divorced William Harris in his own adaptation of Graham Greene's story.
He is staying in France in a Nice hotel, where a couple of interior decorators and a pair of newly-weds hove up. Bogarde gets interested in the bride, Poopy Travis (Charlotte Attenborough), while the woman's new husband Peter (Simon Shepherd) is fascinated by the gay decorator duo.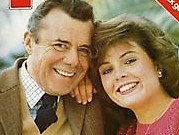 It is a wobbly drama, with some shaky performances and wearily dated gay stuff. But it is worth while for the performance of Bogarde, who makes much of his desperately sad, alienated and pathetic character.
Also in the cast are Francis Matthews, David Yelland, Claude Coppola (barman), Eric Galliano, Randal Herley, Patrick Le Barz, Patricia Davidson and Jacques Diez (maitre d'hotel).
It is shot by Peter Jackson, produced by Keith Richardson, scored by Joe Campbell and Paul Hart and designed by Mike Long.
It was one of only three TV movies Bogarde made, along with The Patricia Neal Story (1981) and The Vision (1987). He died on 8 May 1999, aged 78.
Charlotte Attenborough is the daughter of Richard Attenborough and Sheila Sim.
© Derek Winnert 2017 Classic Movie Review 4871
Check out more reviews on http://derekwinnert.com