Matilda **** (1996, Mara Wilson, Danny DeVito, Rhea Perlman, Pam Ferris, Embeth Daviditz) – Classic Movie Review 1650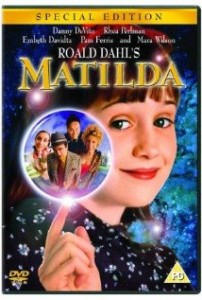 Producer/director/star Danny DeVito's 1996 children's movie is a splendidly dark, colourful and inspiring family comedy based on the Roald Dahl classic story.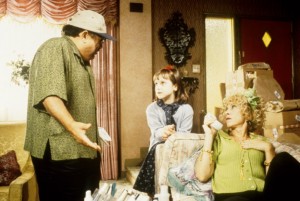 Mara Wilson is stupendous as the extremely gifted little girl Matilda Wormwood who wreaks vengeance on the nasty grown-ups in her life – DeVito and Rhea Perlman as her worst parents ever Mr and Mrs Wormwood, and Pam Ferris as her horrible headmistress. Embeth Daviditz exudes warmth as Miss Honey, the nice teacher who helps Matilda.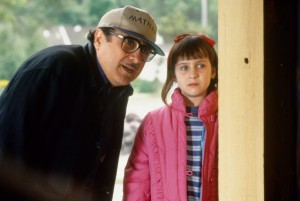 It predates by years the hit Royal Shakespeare Company's London stage show version as a musical. Paul Reubens and Tracey Walter as FBI agents, Brian Levinson, Sara Magdalin, R D Robb and Fred Parnes co-star.
It comes with a slight warning – it's rated PG for elements of exaggerated meanness and ridicule, and for some mild language.
A film of the Roald Dahl classic story James and the Giant Peach was released the same year, 1996, though Willy Wonka and the Chocolate Factory (1971) and Charlie and the Chocolate Factory (2005) are the most famous films of Dahl's work – at least till Steven Spielberg's The BFG in 2016.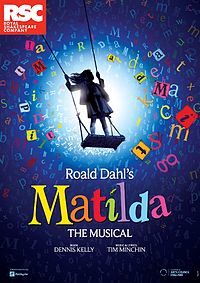 It was adapted for the stage as Matilda the Musical by Dennis Kelly, with music and lyrics by Tim Minchin. After a 12-week run by the Royal Shakespeare Company at Stratford-upon-Avon from November 2010 to January 2011, it was premiered on 24 November 2011 at the Cambridge Theatre its London and had its Broadway premiere on 11 April 2013 at the Shubert Theatre. Asked if he had seen the shoe, Danny DeVito replied:' Would you like to borrow the DVD of my film?'
http://derekwinnert.com/willy-wonka-and-the-chocolate-factory-gene-wilder-peter-ostrum-jack-albertson-roy-kinnear-aubrey-woods-classic-movie-review-1612/
http://derekwinnert.com/charlie-and-the-chocolate-factory-2005-johnny-depp-freddie-highmore-classic-movie-review-1613/
© Derek Winnert 2014 Classic Movie Review 1650
Check out more reviews on http://derekwinnert.com/