Mary of Scotland *** (1936, Katharine Hepburn, Fredric March, Florence Eldridge) – Classic Movie Review 3925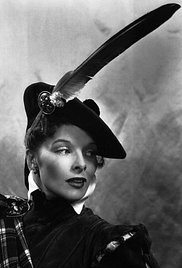 A valiant Katharine Hepburn heads a game, if largely ill-suited, cast in director John Ford's intriguing but shaky 1936 film version of Maxwell Anderson's stage verse drama about the recently widowed Mary Stuart (Hepburn), who returns to Scotland to reclaim her throne as Mary Queen of Scots.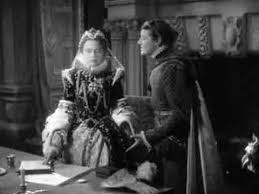 Who will Mary marry – effete Lord Darnley (Douglas Walton) or strong, unpopular Earl of Bothwell (Fredric March)?
Civil war follows a palace coup and Mary is put under house arrest. But she escapes and flees to England, and comes up against her rival Elizabeth I (Florence Eldridge) when she claims the English throne.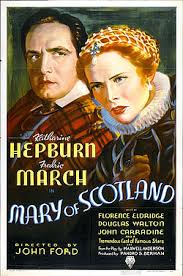 Westerns director Ford, making an unusual choice of material for him, found himself making a film that apparently soon bored him, losing interest early on. He thought the story was not very strong and disliked the blank verse dialogue. Before the filming of Mary and Bothwell's love scene, Ford declared that he was leaving the set early and said to Hepburn: 'Here, you direct this scene.' And, when March agreed,  she directed her first and only scene.
Nevertheless, Ford does shape individual moments with considerable finesse, and the RKO studio art department shows its mettle, especially with the courtroom interior, in the production designs by Van Nest Polglase and Carroll Clark.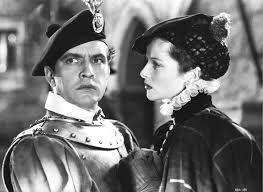 Fredric March gives a full-blooded performance as Mary's protector Bothwell, and he and Hepburn compensate for the stagey, aloof, evidently uninvolved handling. March's real-life wife Eldridge also gives the role of Elizabeth I considerable authority. The movie ends up clunky and creaky, but definitely interesting, and fascinating for Hepburn.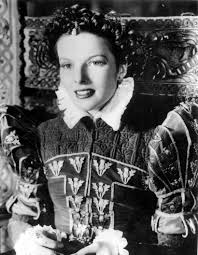 The story depicts the two queens meeting together in one scene, though they actually never met. Charles Jarrott's 1971 movie Mary Queen of Scots does the same.
Helen Hayes played Mary on Broadway in the play that opened in New York City on 27 November 1933 and had 248 performances. The cast also included Moroni Olsen, who re-creates his role as John Knox in the film, and is the only member of the original Broadway cast to repeat a role in the film.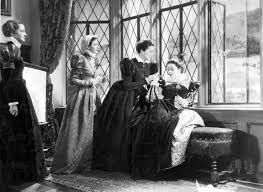 Also in the cast are Donald Crisp as Huntly, John Carradine as David Rizzio, Robert Barrat as Morton, Monte Blue, Frieda Inescort, Alan Mowbray as Francis Throckmorton, Ralph Forbes, David Torrence as Lindsay, Ian Keith as Moray, Gavin Muir as Leicester, William Stack, Frieda Inescort, Molly Lamont, Anita Colby, Jean Fenwick, Lionel Pape, Alec Craig, Mary Gordon, Leonard Mudie, Brandon Hurst, Wilfred Lucas, D'Arcy Corrigan, Frank Baker, Cyril McLaglen, Lionel Belmore, Doris Lloyd, Bobby Watson, Robert Warwick, Ivan Simpson, Murray Kinnell, Lawrence Grany, Nigel de Brulier, Barlowe Borland, Walter Byron, Wyndham Standing, Earle Foxe, Paul McAllister, Gaston Glass, Neil Fitzgerald, Jean Kircher, Judith Kircher and Robert H Homans.
© Derek Winnert 2016 Classic Movie Review 3925
Check out more reviews on derekwinnert.com