Mars Attacks! **** (1996, Jack Nicholson, Pierce Brosnan, Sarah Jessica Parker, Lukas Haas, Sylvia Sidney, Glenn Close, Natalie Portman, Rod Steiger, Martin Short, Tom Jones, Annette Bening, Danny DeVito, Michael J Fox, Jim Brown, Pam Grier, Lisa Marie) – Classic Movie Review 168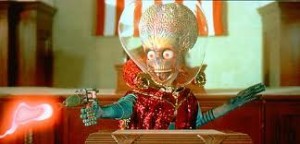 'Nice planet. We'll take it!'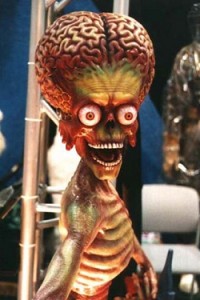 A flying saucer buzzes round the Warner Brothers logo, the US President announces Martians have been spotted circling Earth, but the bug-eyed guys claim 'We come in peace!' Phew, that's a relief! But unfortunately things quickly take a turn for the very much worse when pacifist Earthlings greet the newcomers. And it soon emerges whether they are misunderstood or malevolent.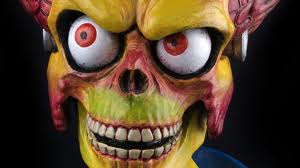 Malevolent it is, of course. So an all-star cast unite in a battle to rid themselves of the scourge from Mars – malicious, bug-eyed Martians who invade Earth armed with a tricky, hard-to-resist mix of ray guns and irony. Possibly the first (and last) movie to be based on a trading card series (Topps cards: Mars Attacks!), Tim Burton's irresistible, wonderfully imaginative 1996 sci-fi horror spoof delights and amazes. It provides endless laughs, with an invigoratingly cynical, even quite nasty edge to the humour.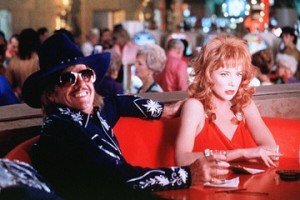 The visiting team from Mars, arriving in a fleet of flying saucers, soon brings the United States to a near standstill, causing mayhem and a wave of death and destruction wherever they go. In a blaze of special effects, the Martians finally get a chance to get their own back on the Earthlings when US President James Dale and his advisers are woefully unprepared for the catastrophe.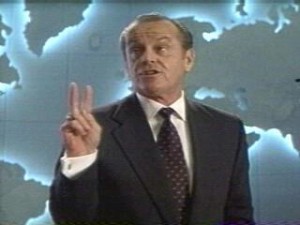 But then, one trailer boy, a nice American kid called Richie Norris (appealing young Lukas Haas), who's looking after his dear old grannie (lovely Sylvia Sidney), accidentally hits on the Martians' one and only Kryptonite Achilles' Heel.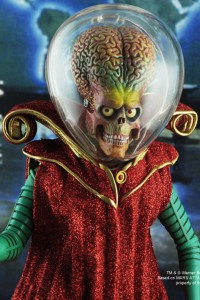 At the head of a dream cast, Jack Nicholson has a field day, enjoying himself enormously in double roles as President Dale and sleazy Las Vegas exploiter Art Land. This is exactly subtle acting, but it is hilarious.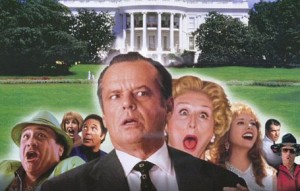 Glenn Close is the First Lady, Natalie Portman is her daughter Taffy, Pierce Brosnan is professor Donald Kessler, Rod Steiger is the gung-ho hawkish General Decker, Martin Short is the Press Secretary and Tom Jones appears as Himself. All of them, even the most serious of these actors, manage to be funny.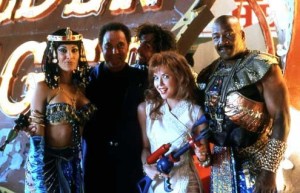 There are also nice little roles for Annette Bening, Sarah Jessica Parker, Danny DeVito, Michael J Fox, Jim Brown, Pam Grier and Lisa Marie (Burton's then partner sashaying devastatingly as a Martian girl), all of whom find room to shine.
On a huge cost of $70million back in 1996, all of it up there on screen in a fantastic-looking movie, Mars Attacks! sadly managed to flop, taking only $37million back in the US. Burton's sensationally entertaining film was just a little before its time.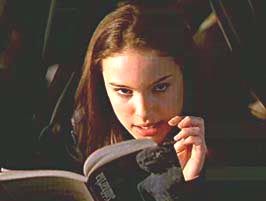 © Derek Winnert 2013 Classic Movie Review 168
Check out more reviews on http://derekwinnert.com/