Marriage on the Rocks ** (1965, Frank Sinatra, Deborah Kerr, Dean Martin) – Classic Movie Review 4781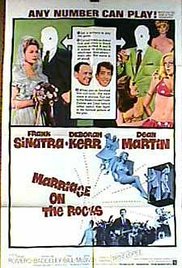 Director Jack Donohue's easy-going 1965 comedy reunites Rat Pack icons Frank Sinatra and Dean Martin for a contrived concoction of a marital farce.
Sinatra and Deborah Kerr star as a happily married couple who get divorced by mistake when they go to Mexico to celebrate their 19th wedding anniversary. But then the wife Valerie (Val) gets married to her now ex-husband's closest buddy (Martin) Ernie Brewer by mistake. Sinatra plays ad agency president Dan Edwards.
The three stars are as dependable as ever in their familiar personas in this silly and convoluted though still sometimes fun romp. However, Cy Howard's good-natured screenplay, based on his story Community Property, is sluggish and mechanical, and refuses to spark.
It helps enormously that the performances and direction are brisk and professional, and that there's a very welcome list of support players – Cesar Romero, Hermione Baddeley, Tony Bill, Nancy Sinatra, John McGiver and Trini Lopez (as himself) – all doing their best for it.
Also in the cast are Davey Davison, Michel Petit, Joi Lansing, Darlene Lucht [aka Tara Ashton)], Kathleen Freeman and Flip Mark.
Oddly, there are no Martin or Sinatra songs.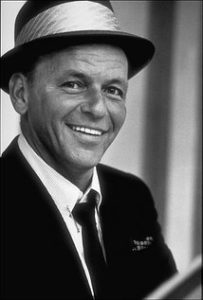 The Mexican Government was offended by the idea of Mexico being a place for quickie divorces and marriages, so the government banned the movie and other Sinatra films and stopped him entering the country for a time, even though he owned property there.
Sinatra produces, boasting: 'Every movie I've made through my own company has made money.' It took a very reasonable $3 million in North America. Buddies Sinatra and Martin also appeared together in all four Rat Pack films: Ocean's 11 (1960), Sergeants 3 (1962), 4 for Texas (1963) and Robin and the 7 Hoods (1964). But this film was the end of the road for the Rat Pack, as they Packed it in after this. They did, however, appear together briefly in 1984's Cannonball Run II.
Nancy Sinatra was nervous acting with her father Frank for the first time in a featured role Tracy Edwards. She said the men had a good time on set but she was troubled (she was also breaking up with her husband Tommy Sands).
Shots of Martin's house appear in the film. Sinatra personally picked Kerr to play his wife. Howard's original screenplay written as Divorce American Style was deemed offensive and rewritten over four months.
After a disappointing preview, distributors Warner Bros cut 14 minutes of footage before its release so it now runs 109 minutes. Reviews were understandably lukewarm but fans of the stars stayed loyal.
© Derek Winnert 2016 Classic Movie Review 4781
Check out more reviews on http://derekwinnert.com