Marathon Man ***** (1976, Dustin Hoffman, Laurence Olivier, Roy Scheider, William Devane, Marthe Keller, Fritz Weaver, Richard Bright, Marc Lawrence) – Classic Movie Review 515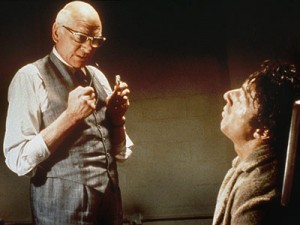 Director John Schlesinger's 1976 thriller about a postgraduate student who runs for his life when he gets mixed up in the pursuit of a Nazi war criminal makes for an ultra-tense, suspenseful and thrilling movie.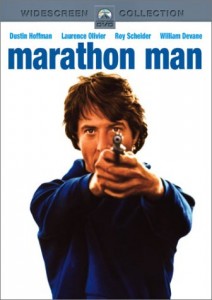 It starts with the mysterious deaths of two elderly men in New York. Then in Paris there's an attempt to kill US agent Doc (Roy Scheider), whose marathon runner brother Babe (Dustin Hoffman) in Manhattan gets involved in a plot involving sinister Nazi Dr Szell (Laurence Olivier).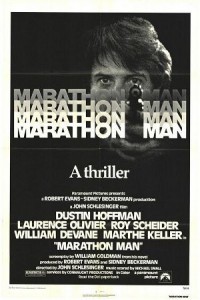 The plot is very complicated so it's not surprising that there are a few loose ends in William Goldman's otherwise very smart and satisfactory screenplay from his own novel, with some outstanding set pieces.
It's a tough, robust movie, stylishly and extremely well made by Schlesinger and beautifully photographed by cinematographer Conrad L Hall. The hero Hoffman and the  super-villain Olivier both give memorable, splendid performances.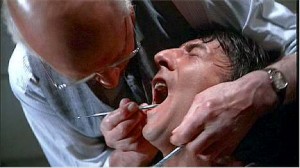 Dr Szell's terrifying torture scene will no doubt put you off going to the dentist for life. When Hoffman got into character by going without sleep for 36 hours, Olivier asked: 'Dear boy, why don't you try acting?'
Also in the cast are William Devane, Marthe Keller, Fritz Weaver,  Richard Bright and Marc Lawrence.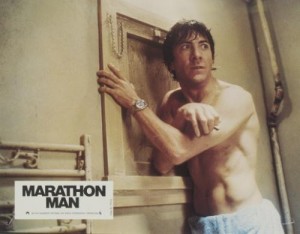 Memorable quote: Olivier: 'Thus far I find you rather repulsive. May I say that without hurting your feelings?'
Did You Know? On the last day of shooting, Olivier gave Hoffman the Complete Works of William Shakespeare as a gift, reading scenes from several of the plays, to Hoffman's delight.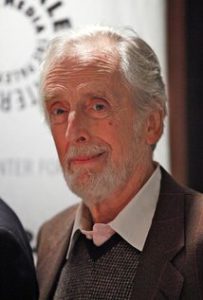 Fritz Weaver, who plays Professor Biesenthal, died on  aged 90.
© Derek Winnert 2013 Classic Film Review 515
Check out more reviews on derekwinnert.com