Many Rivers to Cross **½ (1955, Robert Taylor, Eleanor Parker, Victor McLaglen) – Classic Movie Review 4369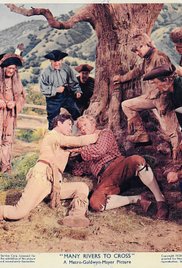 Robert Taylor and Eleanor Parker were not at their best in comedy, but they do show a surprisingly lively, nimble touch here as a reluctant Kentucky frontiersman called Bushrod Gentry (!) and Mary Cherne, the sharpshootin' gal he is forced to wed, in director Roy Rowland's happy-go-lucky romantic comedy Western. An unusual movie for MGM, it is set on the American Frontier of 1798.
Victor McLaglen over-plays his hand as Parker's rumbustious father, Cadmus Cherne, who gets the star pair hitched. But the movie sparks up nicely when the Indians spirit off the heroine, trailing the plot along to its inevitable rosy-sunset conclusion. With Taylor as usual on the dull side as a hero and McLaglen's overacting a faded glory, Parker's spunky performance is the movie's most appealing ingredient.
Advertised as 'KENTUCKY ADVENTURE in CINEMASCOPE', if this broad but jovial film was any more easy-going, it would be happily snoozing.
Bizarrely, when it was screened in the afternoon on Channel 4 they had to edit it to meet ITC guidelines.
It is written by Harry Brown and Guy Trosper, from the story by Steve Frazee. Cyril J Mockridge's score is conducted by Miklós Rózsa.
Also in the friendly cast are Josephine Hutchinson, Jeff Richards, Russ Tamblyn, Alan Hale Jr, James Arness, Rosemary DeCamp, John Hudson, Rhys Williams, Sig Ruman, Russell Johnson, Abel Fernandez and Ralph Moody.
© Derek Winnert 2016 Classic Movie Review 4369
Check out more reviews on http://derekwinnert.com