Manhattan Murder Mystery **** (1993, Woody Allen, Diane Keaton, Anjelica Huston, Alan Alda, Jerry Adler, Lynn Cohen, Joy Behar, Ron Rifkin) – Classic Movie Review 4323
Woody Allen wrote the lead role in this hilarious 1993 old-style comedy thriller for his usual on-screen and off-screen partner Mia Farrow. But, after his breakup with Farrow, Allen poignantly turned to his old flame, Diane Keaton, to cast the role.
Even more poignantly, since we last saw them on screen together in Manhattan in 1979, Woody and Diane have now visibly aged – but have aged well like vintage wine. They now play a Manhattan middle-aged married couple indulging each other's pastimes of ice hockey and opera. 'Every time I hear Wagner,' Woody mutters, 'I feel I should invade Poland.'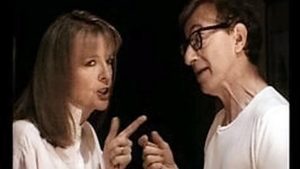 Keaton's curiosity runs wild when her elderly neighbour drops dead, suspiciously of a heart condition that she has never mentioned. Woody is sceptical, but it soon turns out that the Manhattan Murder Mystery is afoot and the two decide they must set out to solve it and investigate whether the husband (Jerry Adler) has bumped off his wife.
They are puzzled and bewildered when Keaton breaks into the neighbour's apartment and finds that he is making getaway plans involving a pretty girl but later sees the supposedly dead wife travelling on a passing bus.
Lighthearted and amusing, this tribute to Thirties Thin Man-style movies sparkles and bubbles like vintage champagne. There is a witty screenplay (co-written by Allen with Marshall Brickman) with plenty of funny one-liners, a fast pace and an airy, carefree mood, though it is a pity about the handheld cameras and casual improvised air of the acting.
Wearing suits and trousers throughout, Keaton is spunkily entertaining in the straight-man boy scout role, while Allen goes for the laughs, engagingly playing a book editor as a Bob Hope-style scaredy-cat character.
Alan Alda and Anjelica Huston are fine in loyal supporting roles as crime-solving helpers. Huston plays an author client of Woody, whom he fancies, and Alda plays a buddy of Keaton, who fancies her. The sexual tension between the four is the film's only serious angle and adds a little boost.
Allen's typically jazzy, nostalgic soundtrack jollies along the daft mystery and helps turn the movie into a pleasing soufflée.
Also in the cast are Lynn Cohen, Joy Behar, Ron Rifkin, Marge Redmond, Zach Braff, John Doumanian, William Addy, Melanie Norris and Aida Turturro.
© Derek Winnert 2016 Classic Movie Review 4323
Check out more reviews on http://derekwinnert.com