Man with the Gun **** (1955, Robert Mitchum, Jan Sterling, Karen Sharpe, Henry Hull, Emile Meyer, John Lupton, Angie Dickinson) – Classic Movie Review 5060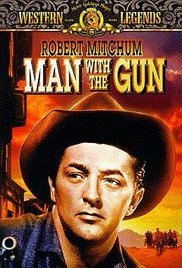 Co-writer/ director Richard Wilson's stalwart 1955 Western stars Robert Mitchum as Clint Tollinger, a gunman who rides into the town of Sheridan looking for his estranged wife Nelly (Jan Sterling). Soon he is being hired for $500 as sheriff to take on the ruthless rancher who is terrorising the place.
This is a very good, very acceptable little formula Western, with excellent performances from Mitchum, Sterling and Henry Hull as the town's scared lawman, Marshal Lee Sims.
The story and screenplay are neatly written by Wilson and N B Stone Jnr and the film is suspensefully handled by Wilson, in his debut.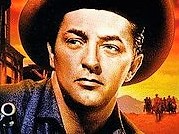 It boasts quality work on the black and white cinematography (Lee Garmes) and score (Alex North), helping to lift it out of the rut of so many Fifties Westerns.
Also in the cast are Karen Sharpe, Emile Meyer, John Lupton, Barbara Lawrence,  Ted de Corsia, Leo Gordon, James Westerfield and Angie Dickinson.
The plot is similar to that of Lawman (1971), with Burt Lancaster.
The alternative British title is cute – The Trouble Shooter.
© Derek Winnert 2017 Classic Movie Review 5060
Check out more reviews on http://derekwinnert.com