Made *** (2001, Jon Favreau, Vince Vaughn, Peter Falk, Famke Janssen, Sean Combs, Faizon Love) – Classic Movie Review 995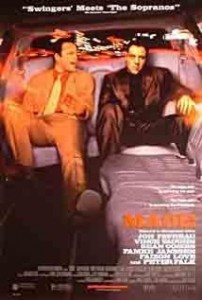 After their success with Swingers in 1996, Jon Favreau and Vince Vaughn team up again in 2001 as youngish boxer buddies mixed up with a crook (Peter Falk) and a money-laundering plot for the much less successful Made.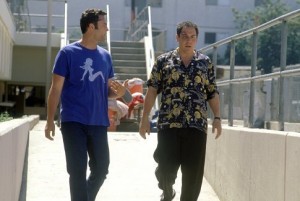 Sour rather than the funny, the star duo have left the charm at home and seem a bit tired and smugly overconfident this time. There's some good stuff in writer-director Favreau's screenplay, but his dialogue often reeks with a stale odour and his plot is as old as the Hollywood hills, though, to be fair, maybe that's the point.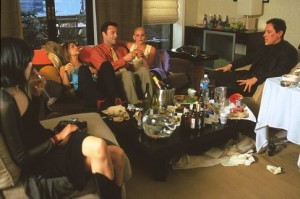 Vaughn's Mafia movie-fixated character is so cocky, annoying and unpleasant that it tends to alienate you from the whole movie, which is a pity as there are good things about it. It is very nice to see Falk with something a little neat to do in a movie again, amusingly playing a part he could do in his sleep, the low-level crime boss Max. The support players mostly make a good impression and Christopher Doyle's grungy New York cinematography is classy.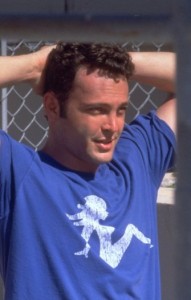 Keeping the movie grounded, Favreau stars as Bobby, a struggling boxer and bodyguard for his stripper girlfriend Jessica (Famke Janssen). Bobby agrees to go to New York City for his boss Max to help in the delivery for a money laundering scheme. Vaughn overplays his hand as Bobby's buddy and partner in crime, his best friend Ricky, whose obnoxious antics threaten to get the duo into deep water. But again, it is not Vaughn's fault. He is playing the loudmouth part perfectly as written.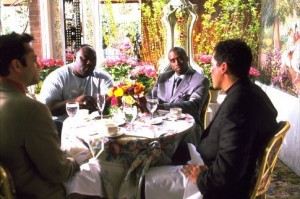 There is an excellent, trendy cast, all trying their darnedest:  Sean Combs, Faizon Love, Mackenzie Vega, Jenteal, Tom Morello, Jonathan Silverman, Kimberley Davies, Elizabeth Barondes, Gary Auerbach, Bill Capizzi, Leonardo Cimino Joan Favreau, Bud Cort, Dustin Diamond, Jennifer Esposito, Sam Rockwell and Drea de Matteo.
Vince Vaughn's dad Vernon Vaughn makes a cameo as the Hollywood High School football coach.
© Derek Winnert 2014 Classic Movie Review 995
Check out more reviews on http://derekwinnert.com