Mad City *** (1997, John Travolta, Dustin Hoffman, Alan Alda, Bill Nunn, Mia Kirshner, Robert Prosky, Blythe Danner, William Atherton, Ted Levine) – Classic Movie Review 1559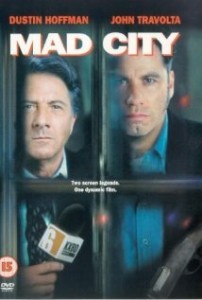 In director Costa-Gavras's 1997 thriller, John Travolta plays Sam Baily, a disgruntled natural history museum security guard, who holds visitors, including a school trip group, hostage in an attempt to win back his job when he falls foul of museum cutbacks.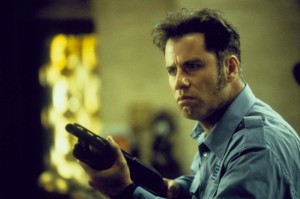 Dustin Hoffman also stars as Max Brackett, a news reporter who seizes the hostage situation as a chance to revive his flagging career. Within minutes, he's broadcasting live and forming a bond with the security guard, and in hours the nation is watching.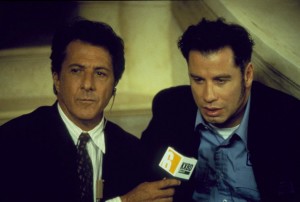 Mad City is a very well-acted, timely, poignant examination of the role the media plays in the US. Travolta and Hoffman are both excellent, exploring the nuances of their characters, while there's good backup from Alan Alda as Kevin Hollander, plus Mia Kirshner, Robert Prosky, Blythe Danner, William Atherton, Ted Levine, Tammy Lauren, William O'Leary, Raymond J Barry, Lucinda Jenney, Larry King and Bill Nunn.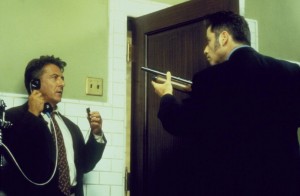 But somehow Tom Matthews's script, which springs from a credible, engrossing situation, gradually, bit by bit, starts to seem hollow and unconvincing, going totally off the rails by the end. Interesting and intelligent though it is, this isn't one of the great Costa-Gavras's best films, but it's still worthwhile, speaking urgent truths about the way we live our lives.
Costa-Gavras, the director of Z (1969) and Missing (1982), won an Oscar for Best Adapted Screenplay for Missing.
© Derek Winnert 2014 Classic Movie Review 1559
Check out more reviews on http://derekwinnert.com/