Macabre ** (1958, William Prince, Jim Backus, Christine White) – Classic Movie Review 5209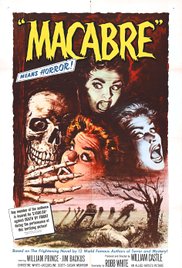 Producer-director William Castle's 1958 movie is based on a 12-handed Mystery Writers of America novel The Marble Forest, though it is credited to one writer, Anthony Boucher (as Theo Durrant).
The movie tells a dull, clumsy horror tale about the search by doctor Rodney Barrett (William Prince) for his supposedly abducted daughter, after the mysterious deaths of both his wife and sister-in-law. The daughter has been buried alive, and the doctor is given five hours to save her before she suffocates.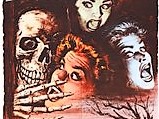 You want to like this little horror thriller, but, unfortunately, the screenplay by Robb White is talky and it is also stilted because of its clumsy flashback structure. The movie drags just when it should get tense and be scary, and at the end it finally fails to surprise with its trick dénouement.
The premise is fine, and the apt performances by Prince, Jim Backus as Police Chief Jim Tyloe, Christine White, Jacqueline Scott, Philip Tonge and Ellen Corby, and the eerie atmosphere Castle provides are also some compensations.
It was showman producer Castle's first horror film after 15 years of inconsequential B-movies. Castle started his series of gimmicks by announcing that he had insured spectators against fear-induced heart attacks while watching the film! He actually gave audience members a Lloyds of London certificate that they were insured for $1,000 against death by fright.
Also in the cast are Susan Morrow, Jonathan Kidd, Dorothy Morris, Howard Hoffman, Linda Guderman and Voltaire Perkins.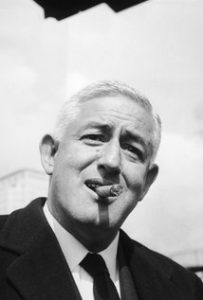 William Castle is also known for House on Haunted Hill (1958), The Tingler (1959) and 13 Ghosts (1960).
© Derek Winnert 2017 Classic Movie Review 5209
Check out more reviews on http://derekwinnert.com