Lust for a Vampire ** (1971, Ralph Bates, Michael Johnson, Yutte Stensgaard, Barbara Jefford, Suzanna Leigh, Mike Raven, Helen Christie) – Classic Movie Review 2892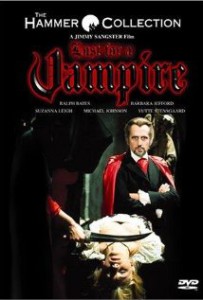 Director Jimmy Sangster's 1971 horror is the second of Hammer Films' three movies derived from J Sheridan Le Fanu's book Carmilla or at least its characters. Though star Ralph Bates described it as the least favourite film of his movies and 'one of the worst films ever made', it is a fascinating if adolescent erotic vampire movie.
Hammer's Karnstein Trilogy of vampire films were all scripted by Tudor Gates: The Vampire Lovers (1970), Lust for a Vampire (1971) and Twins of Evil (1971).
Ralph Bates stars in Lust for a Vampire as Giles Barton, while Michael Johnson plays Richard Lestrange, an 1830s English writer who discovers that ravishing mid-European schoolgirl Mircalla (Yutte Stensgaard) is a reincarnated vampire, Countess Carmilla Karnstein.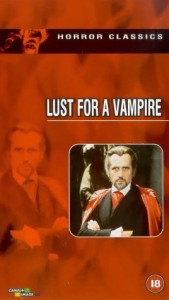 Stensgaard packs the sensual charge her role needs, while director Sangster, though seeming uneasy with the story's decadence, achieves visually fine sequences of furtive vampiring before resorting to pop songs and sex jokes.
Also in the cast are Barbara Jefford as Countess Herritzen, Suzanna Leigh as Janet Playfair, Mike Raven as Count Karnstein, Helen Christie as Miss Simpson, Pippa Steel, David Healy, Harvey Hall, Michael Brennan, Jack Melford, Christopher Cunningham, Judy Matheson, Christopher Neame, Eric Chitty, Caryl Little, Jonathan Cecil, Kirsten Lindhom and Luan Peters.
Peter Cushing was to play the lead but left shortly before filming to look after his ailing wife and Bates was cast at short notice. Sangster also replaced Terence Fisher at short notice. Bernard Robinson died hours after he was hired as production designer and was replaced by Don Mingaye.
Though Mike Raven was a radio DJ, his voice as Count Karnstein was dubbed by Valentine Dyall.
Danish model Stensgaard gave up acting and emigrated to the US in the mid-Seventies and took up a job selling air time for a Christian radio station in Oregon.
Before the Hammer Films' three movies, Christopher Lee's Crypt of the Vampire (1964) is the third adaptation of Sheridan Le Fanu's novel Carmilla, following Carl Theodor Dreyer's Vampyr (1932) and Roger Vadim's Blood and Roses (1960).
© Derek Winnert 2015 Classic Movie Review 2892
Check out more reviews on http://derekwinnert.com