Loveless [Nelyubov] ***** (2017, Maryana Spivak, Aleksey Rozin, Matvey Novikov, Yanina Hope) – Movie Review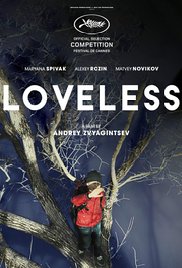 Maryana Spivak and Aleksey Rozin play a deeply unpleasant Leningrad couple selling their apartment as they go through a divorce. Their nasty little spats include deciding who should look after their 12-year-old son (Matvey Novikov) thereafter. Neither of them wants him, and nor does his awful grannie, the mother's mother, living three hours' drive away. They think of giving him up to an orphanage, and then to military school. The little boy hears the talk, and is reduced to tears. Next day, he has vanished.
The couple are forced to find some vague way to team up to find their son, which includes only minor help form the police, but a major effort by an on-line organisation who rally a team of volunteers for just this event.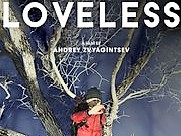 Somehow, with this title, you just know that this is not going to go well. The lack of love in the couple spreads to their new relationships. They have strong but loveless sex. The couple can't even subsume their mutual hatred and disgust just long enough for a concerted effort to find the boy. So there's no truce in the war. They are Loveless, the boy is Loveless, the grannie is Loveless. It goes on and on. The cops, even the volunteers, show no love at all.
This superb film is a harsh, tough-toned, bleak but absolutely mesmerising and brilliant drama from co-writer/ director Andrei Zvyagintsev, the maker of Leviathan (2014), which also featured Rozin. The performances in richly written characters are tremendous. What fun it must be to play such appalling excuses for humanity! The camerawork is brio brooding stuff, probing every detail of people's lives and living, showing us how exactly they live, taking in chilly brutal urban and lovely snow-swept country scenes, revealing the precise background for their Lovelessness.
The story and mystery are nerve-shreddingly compelling and suspenseful, with Zvyagintsev concentrating of the details of the people's lives, attitudes and reactions, and getting much mileage out of the minutiae of the increasingly desperate search for the boy. If it was a book, it would be a page turner, one you just couldn't put down till the final revelation. Does the boy live, die, get found, reappear or what? Zvyagintsev keeps it tough and strong, and doesn't bottle out. He has a heart and soul made of steel.
Zvyagintsev won the Jury Prize at the Cannes Film Festival 2017 and the Best International Film award at the Munich Film Festival 2017 for Loveless. After nine press screenings at the London Film Festival, it was the first to get a round of applause.
It went on to win the Best Film Award at the London Film Festival. Zvyagintsev previously received the award for Leviathan in 2014.
© Derek Winnert 2017 Movie Review 
Check out more reviews on http://derekwinnert.com