Love Is the Devil: Study for a Portrait of Francis Bacon **** (1998, Derek Jacobi, Daniel Craig, Tilda Swinton, Karl Johnson) – Classic Movie Review 4231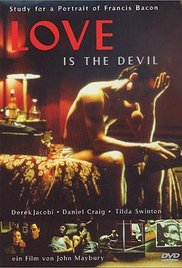 Finally, Derek Jacobi atones for his dreadful performance in Dead Again by grabbing hold of the part he he he was born for by the scruff of the neck and making it perfect.
Jacobi plays the brilliant but none too nice British artist Francis Bacon, who starts up a turbulent relationship with petty crook George Dyer after he catches him breaking in to his house. Bacon turns Dyer into his model and lover, but Dyer turns to booze and drugs when he finds himself at a loss among Bacon's bohemian and posh art chums.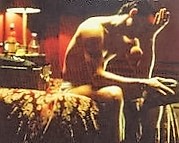 Writer-director John Maybury manages a brilliant warts-and-all portrait of the inspired artist as a horrible, selfish old man, impersonated uncannily by Jacobi who never misses a trick in bringing home the Bacon. Daniel Craig is spot on, too, as the uncomprehending Dyer, and Tilda Swinton and Karl Johnson help to flesh out the character support.
The seedy whiff of the the art scene of Soho in the 1970s is fragrantly realised in an atmospheric film, but the best thing about a fine British movie is the way it conjures up the flavour of Bacon's art – and all without the use of the paintings themselves, as the makers were not allowed to use the images for copyright reasons.
© Derek Winnert 2016 Classic Movie Review 4231
Check out more reviews on http://derekwinnert