Love in the Afternoon **** (1957, Gary Cooper, Audrey Hepburn, Maurice Chevalier, John McGiver) – Classic Movie Review 4983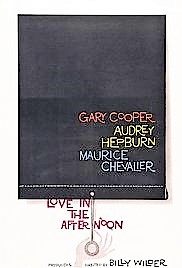 Producer-director Billy Wilder's 1957 romantic comedy was a critical and box office failure and is still often undervalued, but, rightly, its many admirers now rally to support it with great fervour.
Star Gary Cooper was pleased with his performance and disappointed critics said he is miscast because of his age, and, at 56, being too old to play the lover of the 28-year-old Audrey Hepburn. Ironically, Cary Grant, three years younger than Cooper, had already turned down the star role because of his age.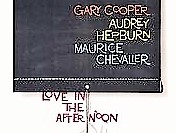 Maurice Chevalier also stars as Claude Chavasse, a Paris private detective getting the lowdown on notorious American middle-aged playboy Frank Flannagan (Gary Cooper) on behalf of a client. Chavasse was hired by a husband to follow his wife who he suspects is unfaithful and then later to entrap Flannagan with the wife.
The husband then tells Chavasse of his plan to kill Flannagan but Chavasse's daughter Ariane (Audrey Hepburn) overhears the threat and warns Flannagan that an irate husband is after him with a gun. Ariane (Audrey Hepburn) is romanced at the Ritz hotel by Flannagan…
Unfortunately an ailing Cooper seems a bit tired, giving the film a slightly weary and jaded air, though this world-weary thing works for the film and Wilder's wry sense of humour. But Hepburn is at her sweetest, Chevalier is at his most ingratiating, and John McGiver (in his feature debut) is at his most amusing as Monsieur X. Certainly the film can charm mightily for those who let it.
It is Wilder's first screenplay with his regular writer I A L Diamond, in this case based on Claude Anet's novel, Ariane. The Claude and Ariane character name sare in tribute.
It is remake of Paul Czinner's 1931 film Ariane, and made as a tribute to Wilder's mentor Ernst Lubitsch.
The risque film was in possible trouble with the Catholic Legion of Decency. So, despite the title, the star characters of course never have sex during all their afternoon meetings in the hotel room. A line from Cooper was even dubbed into the release print: 'I can't get to first base with her.'
[Spoiler alert] They also changed the original ending showing the lovers leaving on a train together, and got Chevalier to do a closing voice-over saying the couple are 'now married and serving a life sentence in New York City'. For a tacked-on afterthought, it is very Billy Wilder and very satisfying.
© Derek Winnert 2017 Classic Movie Review 4983
Check out more reviews on http://derekwinnert.com