Love & Friendship ***½ (2016, Kate Beckinsale, Chloë Sevigny, Xavier Samuel, Tom Bennett ) – Movie Review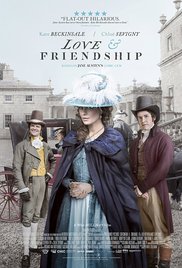 Writer-director Whit Stillman takes on Jane Austen's novella Lady Susan. It's a minor work and it can't help being a minor film. But Stillman tries all he can and knows to make a success of it, with good, highly civilised, polished results that will delight the many Austen fans.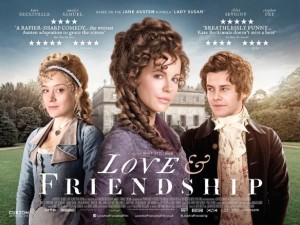 After some slack work, Kate Beckinsale finds an unexpected role that stretches her as an actress as Lady Susan Vernon, an impoverished (OK, broke) noblewoman forced to take up temporary residence with her reluctant debutante daughter at her in-laws' estate in England around 1800.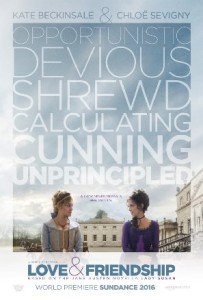 [Spoiler alert] We might feel sorry for Lady Susan, sympathise with her, but she is not a very nice woman, not nice at all. As the poster tells us, she is opportunistic, devious, shrewd, calculating, cunning and unprincipled. You think she is going to thaw and mellow, but that is just not going to happen. In a way that gives the film a problem. The main character is selfish and horrible. Why should we be interested in such a monster?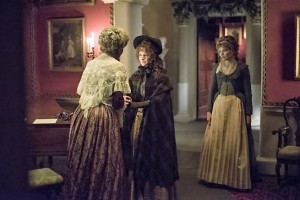 And there is no character arc or learning curve for Lady Susan. We learn more about her but she remains the same frightful person at the end as she seems at the beginning. That should give Beckinsale some problems, but she gets to work with relish and skill, and pulls it off. It is a good role, a big, splashy star role, but she makes the very best of it.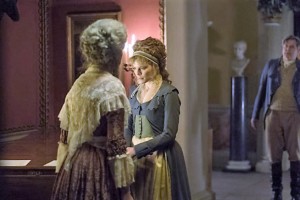 Morfydd Clark plays Lady Susan's rather sullen daughter Frederica, Tom Bennett the witless potential suitor Sir James Martin, a master of the social faux pas, and Xavier Samuel the highly eligible bachelor Reginald DeCourcy that both mother and daughter fancy. They are all stereotypes as presented here, but the actors do their utmost to bring them to life. 
Bennett has the most problems, as his character is so stupid, but he makes it work. Clark and Samuel stay likeable, though the film isn't really about them.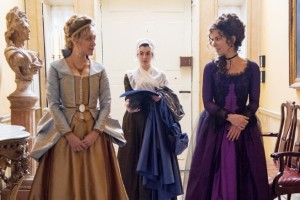 Lady Susan is plotting and matchmaking. There was no TV in those days, so they had to be doing something. Nobody seemed to be having to do any work either. That did give some folks problems, like Lady Susan and her daughter Frederica, who needed husbands to pay the rent. They didn't have to be appealing or good-looking, of course, just rich, like Sir James.
So there's plenty of time and inclination for a woman Lady Susan to be a matchmaker, and, luckily for her and us, she has a confidante in the equally chilly, but somehow mesmerising Alicia Johnson (Chloë Sevigny).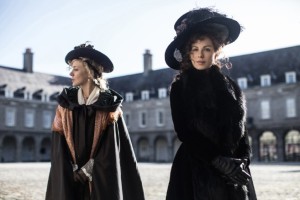 There's a bit of a tone problem with Stillman's film, especially at the start, with the humour hesitant and uncertain, and a bit of an accent problem with some of the non-English cast. But once the film settles down after a jittery quarter hour or so, the quirky characters and oddball plot set in quite nicely – along with Austen's acid wit and satire of course.
It's not a great film, like Austen's Lady Susan isn't a great work, but it's a good one. And it's a refreshing change to film something that isn't Pride and Prejudice.
I'm sorry to be snobbish and snooty, but, Austen really is an English thing – there could hardly be anything more English. It does kind of need an English film-maker, somebody with Austen in their soul. But, for an American, Stillman gets it all pretty much right. He properly conveys the idea that it is a work of respect and a labour of love for him.
Sevigny and Beckinsale both starred in Stillman's very different The Last Days of Disco (1998) all those years ago. It's only Stillman's fifth film in 25 years, after Metropolitan (1990), Barcelona (1994), The Last Days of Disco (1998) and Damsels in Distress (2011).
Kate Beckinsale won the Best Actress award for her role as Lady Susan at the 2016 Evening Standard British Film Awards.
© Derek Winnert 2016 Movie Review
Check out more reviews on http://derekwinnert.com