Love and Death **** (1975, Woody Allen, Diane Keaton, Harold Gould, Jessica Harper, James Tolkan) – Classic Movie Review 4961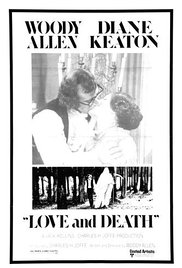 There is a lot of fun to be had from writer-director Woody Allen's polished, handsome-looking and fast-moving 1975 satirical comedy from the far-off happy days when he was spoofing art rather than trying to make it.
The sombre twin geniuses of the stars of Russian literature and of Allen's cinema hero Ingmar Bergman are briskly and respectfully lampooned, with some nods also to Fiddler on the Roof.
The young Diane Keaton makes an attractive comedic and romantic foil for Allen's anti-hero Boris Grushenko (as his distant cousin Sonja), who are in czarist Russia and are both caught up in the Napoleonic wars as they plot to assassinate Napoleon.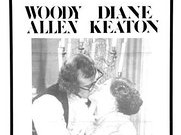 The funny one-liners spill out admirably often and accurately and sometimes Allen even achieves moments of comic genius. The generally relatively little-known support cast, including some Brits, is quite refreshing. Unusually for Allen in those days, it was not made in New York, but Hungary and France, apparently a torture for the comedian.
Also in the cast are Harold Gould, Jessica Harper, James Tolkan, Georges Adel, Despo, Frank Adu, Sandor Eles, Olga Georges-Picot, Tutte Lemkow, Aubrey Morris, Beth Porter, Howard Vernon, Féodor Atkine, Gérard Buhr, Lloyd Battista and Jack Lenoir. Boris as a youngster is played by Alfred Lutter III, who played Ellen Burstyn's son in Alice Doesn't Live Here Anymore (1974), and went on to become one of The Bad News Bears (1976).
Cinematographer Ghislain Cloquet shoots a lovely looking movie. Allen uses a fine soundtrack, including Sergei Prokofiev music. The battle sequence features Prokofiev's cantata music from Sergei M Eisenstein's epic Alexander Nevsky (1938). The music that plays in the opening and closing credits is from the Troika movement of Prokofiev's score for Poruchik Kizhe (Lieutenant Kije). Allen also uses Luigi Boccherini's String Quintet In E, Op. 13 No. 5: Minuet.
© Derek Winnert 2017 Classic Movie Review 4961
Check out more reviews on http://derekwinnert.com