Loulou **** (1980, Isabelle Huppert, Gérard Depardieu, Guy Marchand) – Classic Movie Review 5120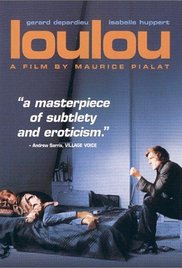 Co-writer/ director Maurice Pialat's significant and important 1980 French film love triangle drama pairs Isabelle Huppert and Gérard Depardieu, who give fine, compelling turns in this depiction of a most unusual love affair between a well-established business woman called Nelly and a hard-drinking, hard-living unemployed layabout named Loulou. It is the work of a great film-maker and great film actors.
Nelly abandons her bourgeois friends and a steady relationship with André (Guy Marchand) to take up with Loulou, who puts all his prodigious energy into having sex. The lack of any warmth in their relationship is expressed visually through the use of an unobtrusive camera that observes their interactions in an unemotional and detached way.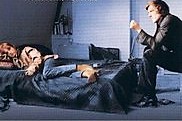 Pialat directs with commanding power and authority, and writes commandingly too with Arlette Langmann. The rigorous intellectual Pialat wants the story to have a wider meaning in terms of a critique of French attitudes, and succeeds in achieving a well-aimed attack on a society obsessed with the comforts of prosperity at the expense of social virtues. The film is shot by Pierre-William Glenn and Jacques Loiseleux, scored by Philippe Sarde and designed by Max Berto.
Also in the cast are Humbert Balsan, Christien Bouchet, Fréderique Cerbonnet, Jacqueline Dufranne, Willy Safar, Agnes Rosier and Patricia Coulet.
Huppert and Depardieu made Valley of Love together in 2015.
© Derek Winnert 2017 Classic Movie Review 5120
Check out more reviews on http://derekwinnert.com