Lords of Dogtown *** (2005, Heath Ledger, Emil Hirsch, Victor Rasuk, John Robinson, Michael Angarano) – Classic Movie Review 1493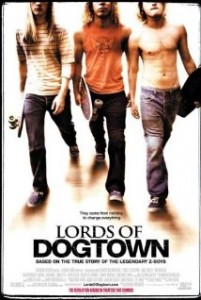 Heath Ledger seems to doing a bad Val Kilmer impression as youth guru-like Skip Engblom, co-proprietor of the Zephyr beach sports shop in Venice, California, during the 1970s, in writer Stacy Peralta's dramatisation of his skateboarding hit documentary Dogtown and Z-Boys (2001).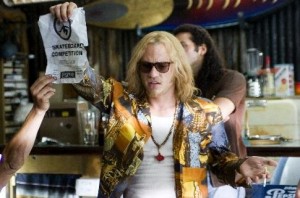 If Ledger seems a little bit unhappy in his character role, Emil Hirsch, Victor Rasuk and, especially, John Robinson fare much better as the Seventies young surfers and skateboarders Jay Adams, Tony Alva and Peralta himself. Getting the short straw as Sid, Michael Angarano does well with the tricky and schmaltzily handled brain cancer stuff, which is, surprisingly, where the story ends.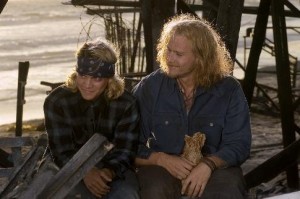 Peralta's screenplay struggles to find some kind of story here – and there really isn't one – it's a series of impressions of a time, a place, a feeling, and it largely succeeds in this and that's why it's entertaining and valuable. With all their rough edges, the characters aren't as appealing as Peralta probably thinks, so the movie isn't as appealing either.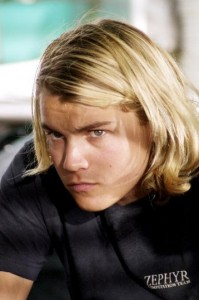 Catherine Hardwicke directs nervously but largely effectively, in the style of her movie Thirteen. It's good enough, but the original documentary Dogtown and Z-Boys is so much better. Nevertheless, the film has a certain something – mood, atmosphere, young stars, Ledger, California in the 1970s and skateboarding – and of course it's poignant to see Ledger now.
Also in the cast are Rebecca De Mornay as Philaine, William Mapother as Donnie, Julio Oscar Mechoso as Mr Alva, Nikki Reed as Kathy Alva and Vincent Laresca as Chino.

© Derek Winnert 2014 Classic Movie Review 1493
Check out more reviews on http://derekwinnert.com/