Lord of Illusions ** (1995, Scott Bakula, Famke Janssen, Kevin J O'Connor, Daniel von Bargen, Joseph Latimore) – Classic Movie Review 6118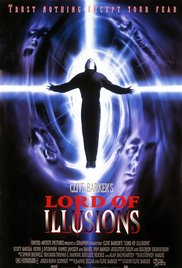 This grisly, mediocre 1995 horror chiller is in the interesting category but must be considered a disappointment from cult horror writer-director Clive Barker.
Famke Janssen stars as Dorothea who pays New York gumshoe Harry D'Amour (Scott Bakula) to save her LA magician husband Philip Swann (Kevin J O'Connor) from an evil fanatical cult, whose members are looking forward to the return of their dead leader Nix (Daniel von Bargen), whom Swann has shot down 13 years earlier.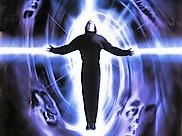 The mix of film noir and the supernatural that works so well in Angel Heart just doesn't come off here, though the gory special-effects-led climax is impressive and Barker has created some decent characters and written tolerable dialogue min his screenplay based on his own story The Last Illusion.
An impressive Famke Janssen makes a good femme fatal, but an unhappy-seeming Scott Bakula is not involving.
Also in the cast are Vincent Schiavelli, Barry Sherman, Sheila Tousey, Joel Swetow, Joseph Latimore and Susan Traylor.
It is shot by Ron Schmidt, produced by Clive Barker, Steve Golin, Joanne Sellar and Sigurjon Sighvatsson, scored by Simon Boswell, and designed by Steve Hardie, with special effects by Fantasy II, FTS EFX and Post Group.
It is nasty and gruesome in places, with strong violence and gore, as well as strong language and sexuality, including  male full frontal nudity.
It runs 116 minutes, with the Director's Cut running at 120 minutes.
© Derek Winnert 2017 Classic Movie Review 6118
Check out more reviews on http://derekwinnert.com