Loot ***½ (1970, Richard Attenborough, Hywel Bennett, Roy Holder, Lee Remick, Milo O'Shea, Dick Emery, Joe Lynch, John Cater, Aubrey Woods) – Classic Movie Review 2971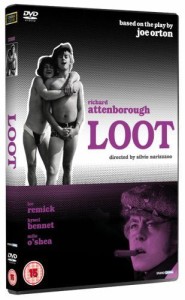 Director Silvio Narizzano films Joe Orton's wickedly funny, now classic 1965 stage black comedy Loot in 1970 – the same year as the movie of Entertaining Mr Sloane.
To succeed, Orton's outrageous, wonderfully bad-taste comedy needs to be performed at the speed of lightning and with the blast of a gale-force wind, and of course preferably in a theatre. So it probably works here as much as it ever could on screen, thanks to Alan Galton and Ray Simpson's useful screenplay and the hardworking, if perhaps not quite inspired, performances of a surprising, but well-chosen cast.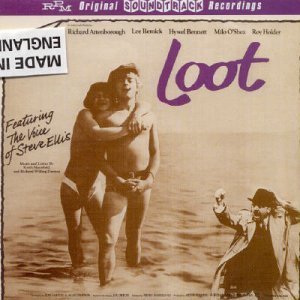 Richard Attenborough is on fine, exuberant comic form, relishing his role as the wholly inappropriate Inspector Truscott, the police detective who swears he's from the water board while on the case of inseparable gay crook pals Dennis and Hal (Hywel Bennett and sidekick Roy Holder) who have pulled off a bank robbery. One of them works in a funeral parlour and they are able to hide their bank-heist loot in Dennis's mum's coffin.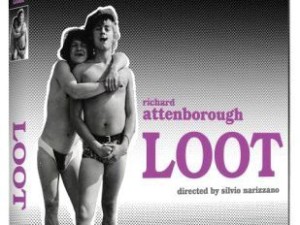 Bennett and Holder are excellent, and there are good turns too from Lee Remick as gold-digger nurse Fay McMahon, Milo O'Shea as widowed Mr McLeavy, Dick Emery as funeral guest Mr Bateman, Joe Lynch as Father O'Shaughnessy, John Cater as Meadows, Aubrey Woods as the undertaker, Enid Lowe as the WVA leader, Harold Innocent as the Bank Manager, Kevin Brennan as the vicar, Andonia Katsaros as the policewoman, Jean Marlow as Mrs McLeavy and Robert Raglan as the doctor.
Studio Canal releases a new restoration of Loot and Entertaining Mr Sloane on 28 August 2017.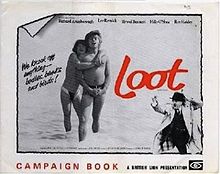 Chillingly, Orton used his own recently deceased mother's false teeth as a prop for the original stage play.
The original Broadway production opened at the Biltmore Theatre in New York on March 18 1968 and ran for only 22 performances, though that was nine more than for Entertaining Mr Sloane, whose original Broadway production opened at New York's Lyceum Theatre on October 12 1965 and ran only 13 performances.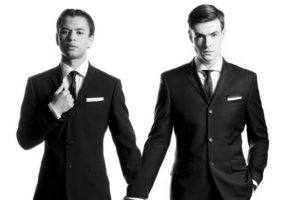 Calvin Demba and Sam Frenchum star in the 50th anniversary production of the play's 1967 London West End premiere at the Park Theatre, Finsbury Park, North London, from 17 August t0 24 September 2017.
http://derekwinnert.com/entertaining-mr-sloane-½-1970-beryl-reid-harry-andrews-peter-mcenery-alan-webb-classic-movie-review-2970/
© Derek Winnert 2015 Classic Movie Review 2971
Check out more reviews on http://derekwinnert.com