Loophole ***½ (1954, Barry Sullivan, Dorothy Malone, Charles McGraw, Don Haggerty, Mary Beth Hughes, Don Beddoe) – Classic Movie Review 4467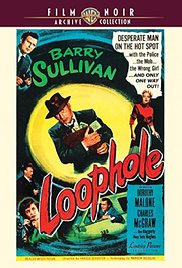 Director Harold D Schuster's 1953 little gem of a thriller stars Barry Sullivan as Mike Donovan, a bank worker who has to find the real robber after he is falsely accused of stealing $50,000 from his workplace by the insurance company's detective Gus Slavin (Charles McGraw). When he is fired from his job, Slavin stops him finding other employment.
Schuster provides the taut, lively and fast-moving handling and there is feisty acting from an ideal B-movie cast. Sullivan is good as the teller, and so is Dorothy Malone as his wife, who starts to doubt whether he can clear his name, with McGraw perfect, as he is in Armored Car Robbery (1950) and The Narrow Margin (1952).
[Spoiler alert] Don Beddoe also scores as the timid real robber Herman Tate, a phony bank examiner who frames Donovan, working with Vera (Mary Beth Hughes), a mole at the bank.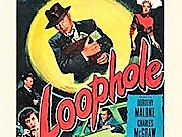 This solid, atmospheric, gripping little movie is an excellent example of the now rightly much admired Fifties film noir.
Also in the cast are Don Haggerty, Dayton Lummis, Joanne Jordan, John Eldredge and Richard Reeves.
It is written by Warren Douglas, shot in black and white by William A Sickner, produced by Lindsley Parsons for Allied Artists, scored by Paul Dunlap and designed by Dave Milton.
This and the 1957 Western Dragoon Wells Massacre are considered Schuster's best work.
The house on Westward Beach Road, Malibu, at the end also appears at the end of the Robert Aldrich films Kiss Me Deadly (1955) and What Ever Happened to Baby Jane? (1962).
© Derek Winnert 2016 Classic Movie Review 4467
Check out more reviews on http://derekwinnert.com