Lonely Are the Brave **** (1962, Kirk Douglas, Walter Matthau, Gena Rowlands) – Classic Movie Review 5148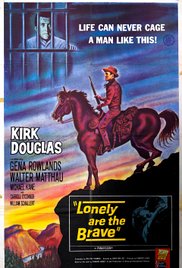 Kirk Douglas triumphs in some of his best acting in director David Miller's intense and brooding pursuit 1962 Western. Douglas gives a stalwart, practised and ultra-confident performance as Jack Burns, a cowboy who finds the going tough in the modern world. Burns is jailed after starting a bar brawl, then breaks out, pursued by a cynical lawman, Sheriff Morey Johnson (Walter Matthau) with helicopters and jeeps.
Miller's direction punches home the film's theme of a traditionalist at odds with new technology and new ideas with some over-obvious words and symbols. But there is real sweep and tension to the prolonged chase in mountain country, bringing freshness to a Western cliché situation.
Matthau is superb in a serious role as the sheriff, and Gena Rowlands, Michael Kane, Carroll O'Connor, Karl Swenson, George Kennedy and William Schallert are also notable in the co-star support.
Philip Lathrop's monochrome cinematography glows to great effect. A brave movie all round.
As producer, Douglas again employs blacklisted screen-writer Dalton Trumbo, who bases his expert screenplay on Edward Abbey's novel Brave Cowboy.
Also in the cast are Bill Raisch, Bill Bixby, William Mims, Martin Garralaga and Lalo Rios.
Matthau and Kennedy also star together in Charade (1963).
© Derek Winnert 2017 Classic Movie Review 5148
Check out more reviews on http://derekwinnert.com