Lolita ***** (1962, James Mason, Sue Lyon, Shelley Winters, Peter Sellers) – Classic Movie Review 391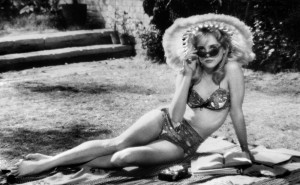 Director Stanley Kubrick's ground-breaking 1962 film of Vladimir Nabokov's famous controversial tale of an older man's obsession for a young, under-age girl is a darkly comic study in obsession. It takes social realism and turns it on its head with its askew attitudes, offbeat performances and startling visuals.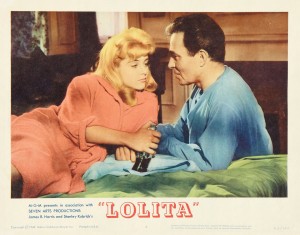 It's remarkable that Nabokov wrote the screenplay, adapting his own novel, and gets sole screen writing credit. So you'd imagine that keeping the faith with the famous source work is assured. But in reality even Nabokov's original screenplay diverged greatly from his novel. And then Kubrick used only a portion of it and drastically altered that during filming. Yet Nabokov admired the movie, though he regretted the waste of his time and later published his work as Lolita: A Screenplay.
Nabokov was honoured by being nominated for an Oscar, the film's only nomination, but alas he didn't win.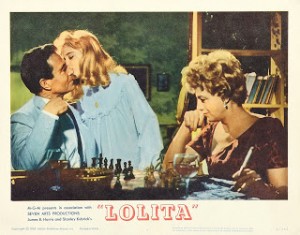 James Mason triumphs in a heartrending, honest and true star performance as the middle-aged college writer-lecturer Professor Humbert Humbert. It's one of the best things this finest of screen actors ever did. He was the first choice for Humbert Humbert, but had to refuse because he was acting in a Broadway play. Laurence Olivier and David Niven both declined, then Mason then withdrew from his play and got the part.
A divorced British professor of French literature, Humbert travels to a small town America to take up a new teaching position and finds lodgings at the house of widowed Charlotte Haze and her dangerously alluring underage daughter Lolita.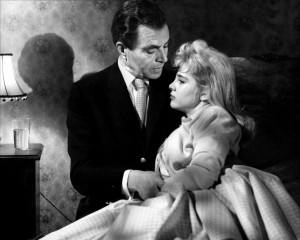 Sue Lyon personifies to perfection the knowingly sexy, flirtatious 14-year-old nymphet Lolita Humbert Humbert has so fallen hopelessly in love with. Lyon became so identified with the controversial role that she found it difficult to get other parts and was for ever Lolita. Lyon's outstanding performance earned her the Most Promising Female Newcomer award at the 1963 Golden Globes.
The movie is incredibly dark, sombre and serious, so it helps a lot that there are two brilliant satirically toned performances, both perfectly judged.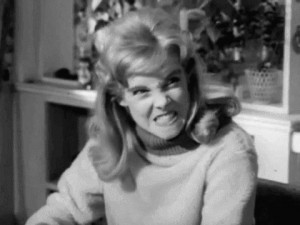 Shelley Winters gives a wonderfully over-the-top portrait of Lolita's sexually frustrated mother, Humbert Humbert's blowsy landlady Charlotte Haze, the sexually voracious widow whom he abstractedly allows himself to be swept into a relationship with and then marries just to be near and pursue the real object of his desire, Lolita.
Peter Sellers (star of Kubrick's Dr Strangelove) is, as you'd expect, quirkily funny, even dangerously funny, as the wicked devious trickster Clare Quilty, the rival for Lyon's affections out to thwart Humbert Humbert. It isn't a huge role, but it's a big, splashy memorable turn and Sellers has a field day with it.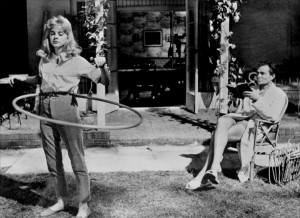 Lolita is a film with the sensibilities and style very much of its period from Britain in the early 60s, but informed with a unique Kubrick spin and photographed by ace British cinematographer Oswald Morris in striking black and white images on cleverly stylised sets.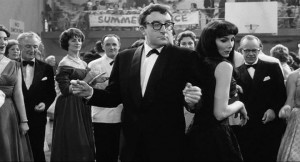 Lolita was filmed at Elstree Studios from November 1960 to February 1961. The sound stages are now the site of a Tesco store. Sic transit gloria mundi.
The film's producer James B Harris plays Brewster.
It was remade as Lolita by Adrian Lyne in 1997 with Jeremy Irons, Dominique Swain, Melanie Griffith and Frank Langella.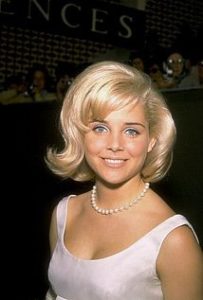 Sue Lyon celebrated her 70th birthday on 10 July 2016.
© Derek Winnert 2013 Classic Movie Review 391
Link to Derek Winnert's home page for more reviews: http://derekwinnert.com/