Lock, Stock & Two Smoking Barrels **** (1998, Jason Flemyng, Dexter Fletcher, Nick Moran, Jason Statham, Vinnie Jones) – Classic Movie Review 120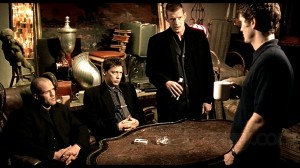 The word is that writer-director Guy Ritchie's London lowlife crime black comedy was intended to be a straight Quentin Tarantino-style gangland action thriller until actors Jason Flemyng, Dexter Fletcher, Nick Moran, Jason Statham and Vinnie Jones came along and hijacked it. If so, that's surely why it's caught the public imagination. As a serious thriller it pretty much sucks, but viewed as a laddish comedy it soars for all those who share its dangerously larky sense of humour.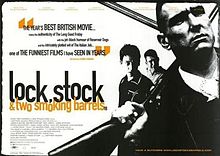 It's a great laugh to watch the escalating panic of the four East End thugs – Tom (Flemyng), Soap (Fletcher), Eddy (Moran) and Bacon (Statham) – as they desperately try to recoup in just a week the £500,000 in gambling debts they've lost in a crooked card game to an East End hard man. Their survival plan is to waylay another gang about to heist a multi-million drugs racket run by public schoolboys (Steven Mackintosh, Nicholas Rowe). Then, in another scam, two antique double-barrelled shotguns go missing…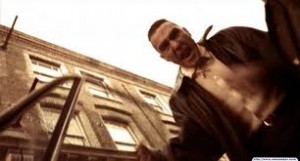 But forget the multi-stranded Pulp Fiction-style plot, which doesn't hold much water, particularly the parts concerning the schoolboys, who wouldn't survive a moment if this story were real. And forget even the performances of some of the other actors, who tend to be luvvies playing hard cases.
It's the attitude, style and the humour that make this a British cult film icon. Guy Ritchie's much-changed screenplay has ended up being funny and witty in its fashionably deadpan, sarcastic, Cockney sort of way. And, above all, Lock, Stock exactly captures the London late-1990s zeitgeist, almost defining the era.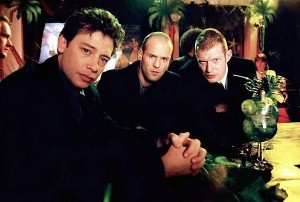 Perhaps what really made it a big money-spinner is Vinnie Jones's hilarious turn as a non-swearing enforcer called Big Chris. Who'd have thought the soccer star would be able to turn out the best performance in the movie? Who'd have thought Statham would become the one real star of the whole group and go on to an international career as an action hero. Come to that did anyone think rock icon Sting (as JD) could be quite so terrible?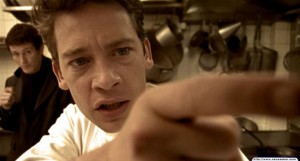 It's all part of the rich tapestry of this visually stylish film, that's etched its place in movie history and the British culture with its infectiously amusing performances, striking cinematography, a great soundtrack and of course loads of corpses, reprehensible screen violence and swearing.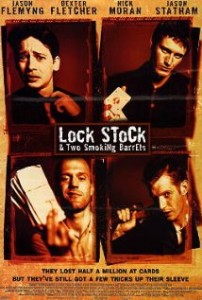 Kicking off Ritchie's variable career, this feather in the woolly cap of the Loaded generation may well be the British lads' lark of the 90s. Arguably, it ultimately turned out to be more influential and popular than the equally famous, yet greater work, Trainspotting (1996).
The release print is 107 minutes and the director's cut version runs 120 minutes.

`
The film debuts of Jones and Statham, who landed his role when modelling for French Connection, who invested in the low-budget film (less than £1million). Rob Brydon has a walk-on as a traffic warden, one of the most hated blokes in Britain. Old-time star Vera Day plays Tanya. Producer Matthew Vaughn has a cameo as a yuppie dragged out of a car by Dog (Frank Harper).
Ritchie decided he wanted to be a film director when he grew up after watching Butch Cassidy and the Sundance Kid as a kid.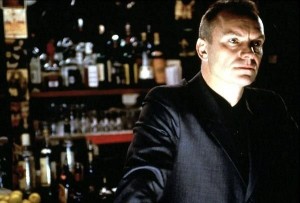 The movie's dedicated to Lenny McLean (Barry the Baptist), bare-knuckle boxer-turned-actor, who died of cancer before the release. He got ill during filming, though it was flu, was taken to hospital, diagnosed with pleurisy, but it was later found to be lung cancer that had gone to his brain.
http://derekwinnert.com/trainspotting-classic-film-review-35/
© Derek Winnert 2013 Classic Movie Review 120 derekwinnert.com
Check out more film reviews on http://derekwinnert.com