Little Red Monkey ***½ (1955, Richard Conte, Rona Anderson, Russell Napier) – Classic Movie Review 3890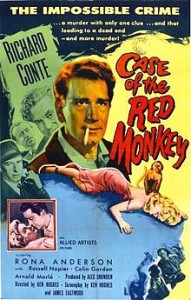 Co-writer/ director Ken Hughes's 1955 movie is a complex, very nifty, and extremely enjoyable little Cold War espionage thriller, well above its humble Fifties British B-movie station as a product of Merton Park Studios, who produced the Edgar Wallace thrillers.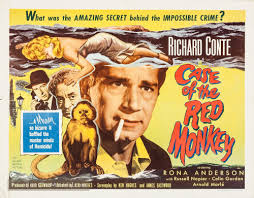 Nasty Russian spies plot to murder prominent scientists and they disguise their dirty deeds by masquerading as a friendly society to lure in their victims. A midget Russian spy controls a red monkey and with his spy colleagues is killing nuclear scientists in Britain. The story follows the story of the police as they try to trace the trail of the killers.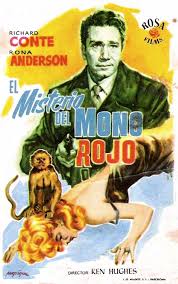 Richard Conte is the obligatory visiting American in a Brit film of the era as the United States State Department agent Bill Locklin, who arrives in London to oversee the transfer of fleeing Russian scientist Professor Leon Dushenko (Arnold Marlé) to the West. Russell Napier plays Superintendent John Harrington of Scotland Yard, the police inspector on the baffling case of the murders of nuclear scientists. Rona Anderson is the heroine, Julia Jackson, Harrington's niece. And there are fine, zesty portrayals from all three.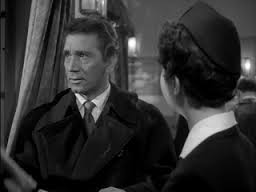 Leonard Franks, in his only film, gets to play the key character of The Midget. Also in the cast are Colin Gordon, Sylva Langova, Donald Bisset, John King-Kelly, Bernard Rebel, John Horsley, Jane Welsh, Theodore Wilhelm, Colin Tapley, Noel Johnson, Jessica Kearns, Geoffrey Denys, Guy Deghy, Peter Godsell, Gianfranco Parolini, Ed Devereaux (in his film debut as an American sailor), Jon Farrell, George Margo, André Mikhelson and Tiny Sympson.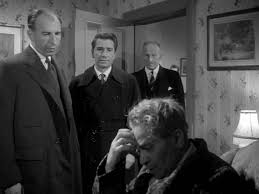 The story is by Eric Maschwitz, with James Eastwood helping Hughes on the screenplay.
Jack Jordan wrote the catchy organ-based Little Red Monkey theme tune.
© Derek Winnert 2016 Classic Movie Review 3890
Check out more reviews on: derekwinnert.com