Little Fauss and Big Halsy * (1970, Robert Redford, Michael J Pollard, Lauren Hutton, Noah Beery Jr, Lucille Benson) – Classic Movie Review 6022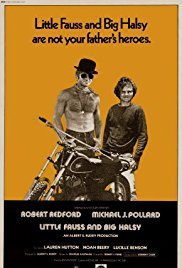 Director Sidney J Furie's 1970 motorcycle buddy movie stars Robert Redford, who teams up with brief star Michael J Pollard (from Bonnie and Clyde) for this lethargic flop drama about a pair of bikers touring the race circuit.
Redford bravely but unsuccessfully goes for an unsympathetic part as womanising Halsy Knox, the exploiter of his inept, unsuspecting sidekick Little Fauss (Pollard). Redford strains his likeabilityas an actor in this role. And unfortunately neither screen-writer Charles Eastman nor serious-minded director Furie are not interested in delivering any action thrills. The stars are out-acted by Noah Beery Jr and Lucille Benson as Pollard's parents, Seally and 'Mom' Fauss.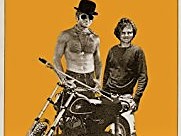 It is a shaky star vehicle and lacks energy and inspiration in almost every department. But the one shining light is Ralph Woolsey's great widescreen cinematography, as well as the songs by Johnny Cash, Bob Dylan, and Carl Perkins.
Also in the cast are Lauren Hutton, Ray Ballard Erin O'Reilly and Linda Gaye Scott.
The art direction is by Lawrence G Paull and the film is produced by Albert S Ruddy.
© Derek Winnert 2017 Classic Movie Review 6022
Check out more reviews on http://derekwinnert.com