Lion ** (2016, Dev Patel, Sunny Pawar, Rooney Mara, Nicole Kidman, David Wenham) – Movie Review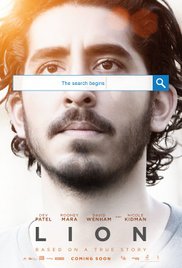 Picked from 4000 boys and unable to speak English when filming began, little Sunny Pawar stars as Saroo, a five-year-old Indian boy who gets separated from his beloved older brother and lost on the streets of Calcutta, miles from home.
Somehow he survives Victorian-style child catchers and is rescued when he is adopted by a nice couple in Australia, Sue and John Brierley (Nicole Kidman, David Wenham) and 20 years later grows up to be Dev Patel. Though Saroo loves his adoptive parents, he needs to set out to find his now long-lost family – if he can.
One day he has the bright idea of looking on Google Street View / Earth and he spots where he came from on the view, so he jets back to Calcutta to find his old Mum. It seems very simple. It turns into a bit of an advert for Google.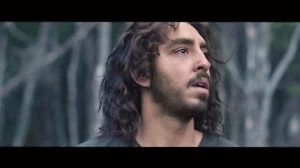 Luke Davies's screenplay is based on the book A Long Way Home by Saroo Brierley (with Larry Buttrose), a novel relating his true life story. As so often, real stories prove hard to translate to satisfactory and satisfying films. Like life, Lion is basically a series of situations rather than a coherent, dynamic plot, and, also like life, the dialogue is everyday and mundane. It probably worked much better in book  form.
First time feature director spends too much time looking at the admittedly great views in Calcutta and (much less so) Hobart, Tasmania, Australia, and far too little time with the emotional and personally drama. It ends up a rather plain, dull and emotionally unsatisfying film.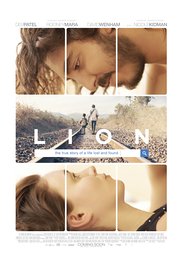 With an impressive beard and Australian accent, Patel makes a likeable hero but he tends to strike poses, perhaps to patch up the script's thinness. Pawar is suitably winsome, Wenham has little to do (and is much more impressive as the villain of Goldstone (2016) and Rooney Mara is wasted as the sympathetic Lucy. Kidman is totally miscast and underpowered, not getting into the idea of being a grown-up man's loving foster mother at all.
The real-life Brierley family visited the production in Tasmania. It is released the same year as The Light Between Oceans (2016), also partly filmed in Tasmania.
© Derek Winnert 2016 Movie Review
Check out more reviews on http://derekwinnert.com