Light Sleeper *** (1992, Willem Dafoe, Susan Sarandon, Dana Delany, David Clennon, Mary Beth Hurt, Victor Garber, David Spade, Jane Adams) – Classic Movie Review 4154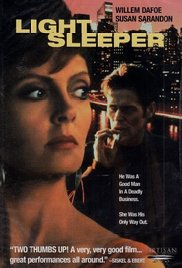 Writer-director Paul Schrader's 1992 Breathless-style thriller stars Willem Dafoe as a reformed addict drug pusher on the edge of middle-age, having a bad time with his upscale clients. Then he gets mixed up in murder during a New York sanitation strike, with women being killed in what seem to be drug-related incidents..
Since Schrader apparently has not got a riveting yarn to tell this time, his homage to vintage thrillers quickly turns into near parody. But the movie captures the audience's attention and admiration anyway thanks to its portrait of New York and the drug-pushing life that is at once both realistic and stylised.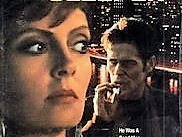 Dafoe commands the screen in an eye-catching, attention-demanding performance as the haunted and lost-looking drug dealer John LeTour, but with his confidence renewed by a fortune teller who has told him that he is in danger but that he will be okay.
However, it is a shame that Susan Sarandon is side-lined as Ann, the pusher boss who is thinking about turning to the legitimate world of fashion. An interesting cast (Dana Delany [as Marianne Jost], David Clennon, Mary Beth Hurt, Victor Garber, David Spade, Jane Adams) also co-star in this lean, spare and wiry movie, which offers a beady-eyed stranger's eye view on New York.
Asked about the film's enigmatic but intriguing title, Dafoe joked that Schrader thought no one would watch a film if it was just called Drug Dealer.
© Derek Winnert 2016 Classic Movie Review 4154
Check out more reviews on http://derekwinnert