Life *** (2017, Jake Gyllenhaal, Rebecca Ferguson, Ryan Reynolds) – Movie Review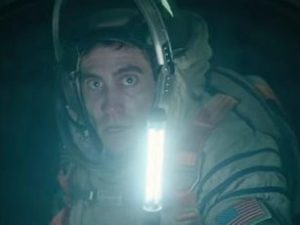 The trouble with director Daniel Espinosa's enjoyable and entertaining 2017 sci-fi horror is that is an Alien ripoff, and, while that is in some ways a good thing, in others, it's bad. The story is very familiar and follows a completely predictable course right up to its unsurprising ending.
On the other hand, the film is tense, taut, compact  – and sometimes even quite scary. Espinosa turns in a smart-looking and smart-sounding movie. Two other main defects, while I remember, are dialogue I could not make out, as the actors' diction is mostly poor, and a script problem with the sluggish dialogue moments.
When there is alien action, which is most of the time, it is exciting. In the three or four scenes, where screen-writers Rhett Reese and Paul Wernick go for a bit of humanising their characters or even a bit of space poetry, the film falls flat and dull.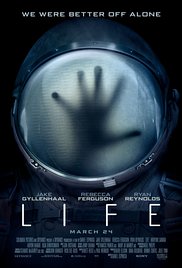 Jake Gyllenhaal, Rebecca Ferguson, Ryan Reynolds, Olga Dihovichnaya, Hiroyuki Sanada and Ariyon Bakare play a team of astronauts aboard an international space station studying a sample collected from Mars that provides evidence for extraterrestrial life on the Red Planet.
The sample contains a single-celled organism – the first example of life beyond Earth – that needs oxygen and water, like we do. At the start, the life form looks pretty, small and Disney cute, but soon proves super-intelligent and rapidly evolving. That's roughly when their troubles start.
It plays like a short story or old-style B movie, so there's trouble giving it substance and stature. The six actors do their best to give it a lift, but they are the kind of roles you don't need good actors like these in. How did they get Reynolds to do such a nothing role? None of the actors is really seen at their best, but it's good to see them anyway, especially Gyllenhaal and Ferguson.
The cinematography (Seamus McGarvey), score (Jon Ekstrand) and set designs (Nigel Phelps) are impeccable. It's a smart movie.
Apparently Reynolds was to have to play the Gyllenhaal character, but scheduling conflicts forced him to take a support role. It is Reynolds's second film with Espinosa after  Safe House (2012).
© Derek Winnert 2017 Movie Review
Check out more reviews on http://derekwinnert.com