Lethal Weapon 2 *** (1989, Mel Gibson, Danny Glover, Joe Pesci, Joss Ackland, Derrick O'Connor, Patsy Kensit) – Classic Movie Review 3716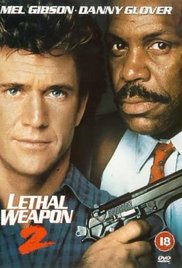 Lethal Weapon screen-writer Shane Black created the characters and co-wrote the story (with Warren Murphy) for this snappy, adroit and of course violent sequel to the 1987 hit. Mel Gibson and Danny Glover are back as two of America's unlikeliest cops, Martin Riggs and Roger Murtaugh, this time on the trail of South African diplomats using their immunity for big-time crime.
Riggs and Murtaugh's quest is to protect a bent accountant called Leo Getz (Joe Pesci), who has laundered a large sum belonging to a group of South African villains, led by Rika Van Den Haas (Joss Ackland) and Pieter Vorstedt (Derrick O'Connor).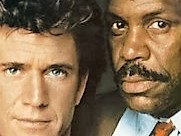 Gibson and Glover communicate an easy-going, infectious sense of fun, and Ackland seems to be enjoying himself in a preposterous role as the Bond-style super-villain. Director Richard Donner again keeps a tremendous tenacious grip on the action from the opening car chase to the exciting climactic showdown. However, exciting and entertaining as it is, perhaps inevitably it is not quite as fresh as part one and Riggs's romance with Rika Van Den Haas (Patsy Kensit) is lethally dull.
The TV version trims violence and bad language, in the process cutting the film's dynamism.
Lethal Weapon 3 followed in 1992 and Lethal Weapon 4 in 1998.
© Derek Winnert 2016 Classic Movie Review 3716
Check out more reviews on derekwinnert.com