Let George Do It ***½ (1940, George Formby, Phyllis Calvert, Garry Marsh, Romney Brent, Bernard Lee, Coral Browne, Torin Thatcher) – Classic Movie Review 4874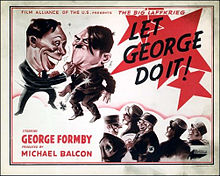 Director Marcel Varnel's 1940 British black-and-white comedy musical war film stars George Formby as George Hepplewhite, a daft ukulele playing concert-party member, who mistakes Bergen, Norway, for Blackpool, England. Having taken the wrong boat and finding himself in the still uninvaded Norway where he is confused for a secret agent, he proceeds to round up German spies, who are sending messages to U-boats with the help of a bandleader, Mark Mendez (Garry Marsh).
On the romantic front, Formby is tempted by wicked vamp Iris (Coral Browne) and rescued by sweet woman Mary Wilson (Phyllis Calvert), an actual British intelligence spy masquerading as his hotel receptionist.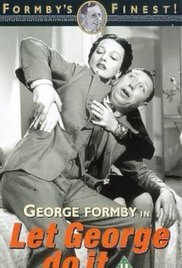 Written by John Dighton, Austin Melford, Angus MacPhail and Basil Dearden, this is a particularly breezy, high-spirited, fast-paced wartime farce with wonderful old songs like Formby's classic tunes 'Mr Wu Is a Window Cleaner Now' and 'Grandad's Flannelette Nightshirt' and an archetypal Formby appearance in one of this hugely likeable entertainer's best films.
It is produced by Michael Balcon for Ealing Studios and Associated Talking Pictures, and distributed in the UK by Associated British Film Distributors. Released in the United States as To Hell With Hitler, it is the Ealing film studio's first comedy with a Second World War setting and dealing directly with the War.
Also in the cast are Romney Brent as as Slim Selwyn, Bernard Lee as Oscar, Torin Thatcher, Hal Gordon, Diana Beaumont, Donald Calthrop, Ronald Shiner, Albert Lieven, Helena Pickard, Percy Walsh, Johnnie Schofield, Albert Lieven, Bill Shine, Alec Clunes, Ian Fleming, Jack Hobbs, Charles Paton, Lloyd Pearson, Ben Williams and Ian Wilson.
It premiered at the Empire, Leicester Square, London, on 12 July 1940, taking over after Gone with the Wind no less.
Formby also writes and sings 'Oh, Don't the Wind Blow Cold' and 'Count Your Blessings and Smile'.
© Derek Winnert 2017 Classic Movie Review 4874
Check out more reviews on http://derekwinnert.com