Lesbian Vampire Killers * (2009, Matthew Horne, James Corden, Paul McGann) – Classic Movie Review 4910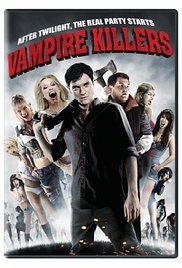 Matthew Horne and James Corden, the Little and Large of 2009, play two idiot Brit slackers who get mixed up with lesbian vampires on a walking tour down Wales way – and soon become Lesbian Vampire Killers, like you do. And that's it for a slimly plotted, thinly gag-spattered 86 minutes.
Trying to spoof Hammer Horrors and be hilarious is a difficult, nay formidable task, and the TV and radio favourites (Gavin & Stacey) may eventually fail. But they prove decent, likeable big-screen presences, easily capable of holding their own against writers Stewart Williams and Paul Hupfield's increasingly desperate screenplay (not written for them by the way) that eventually settles for four-letter words as its chief mainstay for laughs.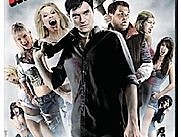 Other than anti-woman and anti-lesbian jokes, that is, of course. The film's gleeful non-PC status probably won't cause lines of women picketing cinemas, but it should.
Director Phil Claydon also has Withnail & I in mind as a role model for his movie – some hope of success! – and casts its star, poor Paul McGann, as a cussing vicar out to avenge his wife's death at the hands of the vampires. Other than Horne, Corden, and McGann, nobody else has anything to do, except look lustful and lesbianic, and bare some bosom.
Also in the cast are Silvia Colloca as Carmilla, MyAnna Buring, Lucy Gaskell, Margarita Hall, Sianad Gregory, Emma Clifford, Susie Amy, Louise Dylan, Ashley Mulheron and Tiffany Mulheron.
Funny enough for about half an hour, then pretty toothless and tedious, Lesbian Vampire Killers could just about be a painless interlude in a long night of boozing. Cinema art, it ain't, and, oh dear, it looks all set up for a sequel. Now that is a joke. The title's great, though.
© Derek Winnert 2017 Classic Movie Review 4910
Check out more reviews on http://derekwinnert.com