Le Quai des Brumes [Port of Shadows] ***** (1938, Jean Gabin, Michèle Morgan, Michel Simon, Pierre Brasseur, Edouard Delmont) – Classic Movie Review 355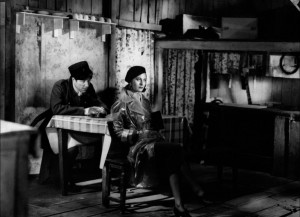 Jean Gabin and Michèle Morgan unforgettably play out their passion-driven fate as doomed lovers in the poetically grungy, smoky and despairing urban settings of a pre-war Le Havre, Seine-Maritime, northern France.
There is a tiny bit of exterior shooting, but this 1938 world cinema classic is mostly shot on beautifully and knowingly artificially designed sets, with Le Havre lovingly re-created in the studio (Studios Pathé-Cinema, Joinville-le-pont, Val-de-Marne, France). Alexander Trauner's imaginative sets are captured in glorious images by ace cinematographer Eugen Schüfftan.
In the romantic thriller story, with its scenario and dialogue by Jacques Prévert based on Pierre Dumarchais's novel, deserter Jean (Gabin) kills while running away from the army. He arrives by night at the port of Le Havre, trying to get out of France. He finds civilian clothes, some money, a passport and a dog, and he fatefully meets a worldly-wise 17-year-old girl.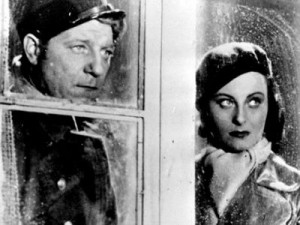 He then finds himself befriended by the lovely young Nelly (Morgan, then only 18), who is surrounded by men who lust after her. They include boyfriend Maurice (Edouard Delmont), local hood Lucien (Pierre Brasseur) and her protector Zabel (Michel Simon), a jealous gangster. Jean falls for Nelly, and they plan to escape on a ship leaving for Venezuela.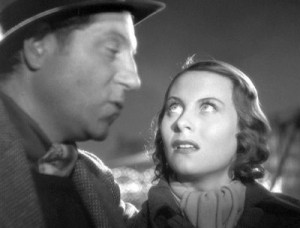 Le Quai des Brumes one the best of a handful of classics which find director Marcel Carné and writer Prévert perfectly capturing the mood of romantic pessimism in France just before the war in the late 30s. Bizarrely, the Nazis banned Le Quai des Brumes during the German Occupation of France.
The French New Wave critics and directors got so many things right but not this. They wrongly despised the artificiality and studio-based nature of Carné's work. It is easy and right now to see the great value of Carné's films and film-making method. In their zeal for a new French cinema in the late Fifties, they blindly threw the baby out with the bath water.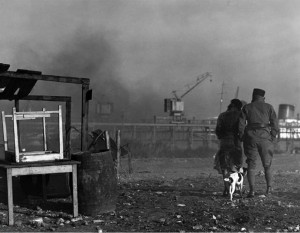 Also in the cast are Robert Le Vigan, Jenny Burnay, Marcel Peres, René Genin and Raymond Aimos.
Carné, Gabin and Prévert reunited the next year on another classic, Le Jour se Leve (Daybreak).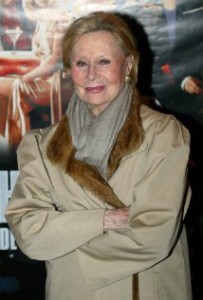 RIP dear departed Michèle Morgan. One of the greats of French cinema, a great beauty, and French national treasure, Michèle Morgan (real name Simone Renée Roussel) was born in 1920 and died on 20 age 96.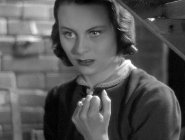 A star for three decades in French and American films, she was one of the last survivors of Thirties movies. She was the first winner of the Best Actress Award at the Cannes Film Festival for La symphonie pastorale in 1946, and in 1992 was given an Honorary César award for her contribution to French cinema. She won a Career Golden Lion in 1996 at the Venice Film Festival and won a Star on the Walk of Fame at 1645 Vine Street in 1960.
Gabin (real name Jean-Alexis Moncorgé) died aged 72 in 1976. He made his last film in 1976.
© Derek Winnert 2013 Classic Movie Review 355
Check out more reviews on http://derekwinnert.com