Le Amiche [The Girl Friends] **** (1955, Eleonora Rossi Drago, Valentina Cortese, Yvonne Furneaux, Gabriele Ferzetti) – Classic Movie Review 6281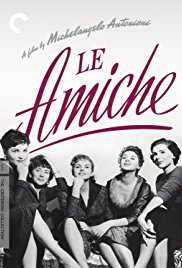 This early Michelangelo Antonioni 1955 Italian film is a highly successful, clever adaptation of a Cesare Pavese story (Tra Donne Sole) about the relationships between a young cosmopolitan fashion designer Clelia (Eleonora Rossi Drago) and her four narrow-minded girl friends from her native town of Turin.
When she goes back there from success in Rome to set up a new fashion salon, she gets embroiled in the lives of suicidal Rosetta, and three of her rich women friends, Momina, Nene, and Mariella. Absorbing character studies provide an intriguing insight into female anxiety in a film that is wittily co-scripted and delicately handled by a master director. In a key work, Antonioni starts his experimentation with a disconnected, virtually plotless narrative structure and long takes with this film, and starts exploring his isolation and alienation themes here too.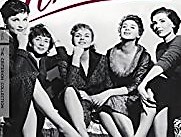 It also stars Yvonne Furneaux as Momina De Stefani, Valentina Cortese as Nene, Anna Maria Pancani as Mariella and Gabriele Ferzetti as Lorenzo.
Also in the cast are Franco Fabrizi as the architect Cesare Pedoni and Madeleine Fischer as Rosetta Savoni, with Luciano Volpato, Maria Gambarelli and Ettore Manni.
It is written by Suso Cecchi d'Amico, Alba de Cespedes and Michelangelo Antonioni, shot in black and white by Gianni di Venanzo, produced by Giovanni Addessi and scored by Giovanni Fusco.
It runs  cut version.
It is Antonioni's fourth feature as director.
It is followed by Il Grido (1957) [The Cry] [The Outcry] ****
© Derek Winnert 2017 Classic Movie Review 6281
Check out more reviews on http://derekwinnert.com