Last Flag Flying **** (2017, Bryan Cranston, Laurence Fishburne, Steve Carell) – Movie Review
Director Richard Linklater's poignant 2017 drama, based on the novel by Darryl Ponicsan, is absolutely first rate. There are three marvellous performances, a great script, some tremendous bitter-sweet moments, and a wonderful tear-jerking ending. Bryan Cranston is a knockout, Laurence Fishburne is not far behind and Steve Carell not far behind him.
In Ponicsan's story, former US Marine buddies Sal Nealon (Cranston) and the Reverend Richard Mueller (Fishburne) re-unite with their old buddy Larry 'Doc' Shepherd (Carell) to help him bury his son, a young US Marine killed in the Iraq War. But there is conflict with the US Marines who want to do it their way. 'I'm not going to bury a marine,' says Shepherd. 'I'm just going to bury my son.'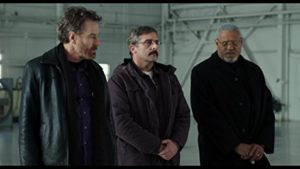 The normally funny Carell has the serious role, and he is a fine serious actor, but that leaves the space clear for Cranston and Fishburne to raise the laughs. The heavyweight actor Fishburne is not normally a funny man, but here he really is, and he forms a great double act with Cranston, whose background is comedy.
Linklater handles it all with great skill and grace, both as director and co-screenwriter with Ponicsan. It's a tribute to Linklater that this essentially sad and tragic material comes over and warm and wise, as well as often funny.
It was screened on 6 October at the London Film Festival, and released in the US on 3 November, with its UK release on 26 January 2018.
It was filmed in and around Pittsburgh, Pennsylvania.
© Derek Winnert 2017 Movie Review
Check out more reviews on http://derekwinnert.com