Last Chance Harvey ***½ (2008, Dustin Hoffman, Emma Thompson, Eileen Atkins, Kathy Baker, James Brolin, Richard Schiff, Liane Balaban) – Classic Movie Review 4342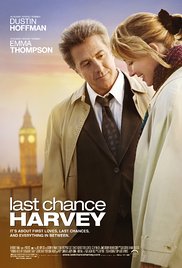 Golden Globe nominations for stars Dustin Hoffman and Emma Thompson show their huge appeal in writer-director Joel Hopkins's entertaining London-based 2008 romcom. Hoffman plays older American advert jingle-writer Harvey Shine, who is over here in the UK for his estranged daughter's wedding.
After meeting up with the family hardly goes well, the next thing is that he misses his plane back to the States and loses his job. Luckily, there is an eccentric middle-aged writing teacher (Thompson) at the airport (filmed at Stansted) to provide tea and sympathy – and maybe a bit more. Thompson's Kate Walker certainly takes a shine to Harvey Shine.
Hoffman and Thompson make a great deal of this fine romance, and the London settings do them proud – a bit touristy for the Americans, but not too much. Some very good dialogue compensates for a few obvious scriptwriter's contrivances.
But this is an extremely likeable film, and a smashing hour and a half in the company of such nice people. It's all Dusty and Em's show, but Eileen Atkins has some fun as her over-demanding mum, Maggie.
Also in the cast are Kathy Baker, James Brolin, Richard Schiff, Liane Balaban, Jeremy Sheffield, Daniel Lapaine and Bronagh Gallagher.
There is substantial filming at London's South Bank, between Waterloo Bridge and Blackfriars Bridge by the National Theatre. Crowds gathered to watch the stars. I know because I was there at the time.
Hopkins reunited with Thompson for The Love Punch in 2013.
Thompson and Hoffman previously worked together in Stranger Than Fiction (2006).
© Derek Winnert 2016 Classic Movie Review 4342
Check out more reviews on http://derekwinnert.com