Land of Mine [Under sandet] **** (2015, Roland Møller, Louis Hofmann, Joel Basman) – Movie Review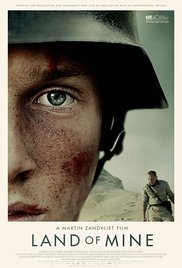 Roland Møller stars as Danish Sergeant Carl Rasmussen who supervises a group of young German PoWs forced to clear a beach of thousands of land mines in post-World War Two Denmark.
Writer-director Martin Zandvliet's important, beautiful and moving Oscar-nominated Best Foreign Language Film of the Year drama is exceptionally tense, harrowing and compassionate, shedding valuable light on largely forgotten historical event.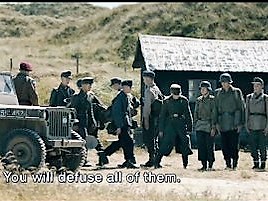 We learn that after the Germans laid more than two million mines along the Danish coastline, the Danes felt understandably vengeful, with the war-damaged victors in the conflict assuming the same brutality shown by the losers.
Zandvliet's commendable film is extremely intense and suspenseful. Møller gives an outstanding performance and Louis Hofmann is remarkable in support as Sebastian Schumann. Camilla Hjelm Knudsen's cinematography helps to build the film's tension, while Stefanie Bieker's costume designs and Barbara Kreuzer's make-up combine in effect to achieve the film's needed high level of realism.
If the Academy has a bias towards foreign language films based on World War Two events, that is perhaps understandable. The stories will never go away, and nor should they, especially if, like this one, they are so little known.
© Derek Winnert 2017 Movie Review
Check out more reviews on http://derekwinnert.com