La Strada [The Road] ***** (1954, Anthony Quinn, Giulietta Masina, Richard Basehart) – Classic Movie Review 4203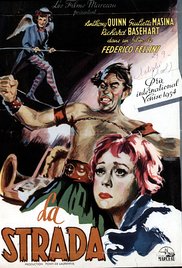 Italian maestro film-maker Federico Fellini's movie won the first official Best Foreign Language Film Oscar in 1957 (previous winners only got special award Oscars) for this beautiful 1954 character study of a brutal itinerant performer (Anthony Quinn) and the slow-witted carefree girl (Giulietta Masina) he befriends after buying her from her mother for 10,000 lire and some food. Masina and Quinn are unforgettable as the waif Gelsomina and the travelling showman Zampanò.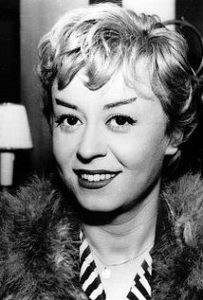 As they tour the countryside, Gelsomina falls desperately in love with Zampanò, but he repays her devotion with insults and beating, until they meet gentle acrobat tight-rope walker The Fool (Richard Basehart), who gets Gelsomina to question her choices.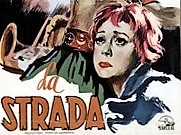 Fellini's masterpiece of poetic neo-realism is unforgettably acted by Quinn and Masina (La Signora Fellini), there are lots of wit and charm in the Oscar-nominated Best Original Screenplay (for Fellini and Tullio Pinelli), marvellous black and white visuals in Otello Martelli's cinematography and there is a wonderful Nino Rota score too.
Also in the cast are Aldo Silvani, Marcella Rovere and Livia Venturini
It was a good Oscar year for Quinn, who also won best supporting actor for his Paul Gaugin in Lust for Life.
Producers Dino De Laurentiis and Carlo Ponti were the actual recipients of the first official Best Foreign Language Film Oscar.
Masina and Basehart re-appeared in Fellini's follow-up Il Bidone (1955).
A musical make-over of La Strada toured in UK early in 2017, arriving at The Other Place theatre, Victoria, London, during June and July 2017.
© Derek Winnert 2016 Classic Movie Review 4203
Check out more reviews on http://derekwinnert