La Pianiste [The Piano Teacher] **** (2001, Isabelle Huppert, Annie Girardot, Benoît Magimel, Susanne Lothar) – Classic Movie Review 5119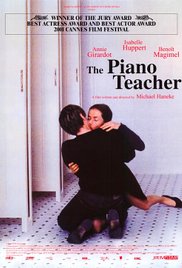 Isabelle Huppert gives a very striking performance indeed as troubled music teaching pianist professor Erika Kohut, in Michael Haneke's distinguished and extremely disturbing 2001 drama.
At the Cannes Film Festival in 2001, Isabelle Huppert won the Best Actress award unanimously and her co-star Benoît Magimel won the Best Actor award. Michael Haneke won the Grand Prize of the Jury, though not the Palme d'Or. Annie Girardot won Best Supporting Actress at the César Awards in 2002.
Erika is approaching middle age, but living with her peculiar mother (Annie Girardot), with whom she has what is basically an emotionally S & M relationship, first dominant then submissive, which Erika then goes on to play out in her sexual fantasies and relationships.
A young man, self-assured, talented student Walter Klemmer (Benoît Magimel), pursues Erika romantically. But Erika is masochistic and has a self-mutilation secret.
It is R rated for aberrant sexuality, including violence, and for strong language. It is a haunting work of art, to be approached carefully.
© Derek Winnert 2017 Classic Movie Review 5119
Check out more reviews on http://derekwinnert.com