La Grande Bouffe [Blow-Out] ** (1973, Marcello Mastroianni, Philippe Noiret, Ugo Tognazzi, Michel Piccoli, Andréa Ferréol) – Classic Movie Review 4194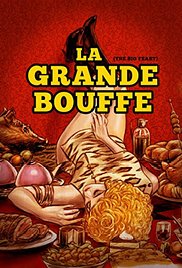 Four burnt-out blokes meet up a villa in the countryside to eat themselves to death in the blow-out of the English title. But first they hire four prostitutes and engage in group sex. One of the girls, school teacher Andrea (Andréa Ferréol), stays to the bitter end. This repulsive and scandalous 1973 French art movie caused a sensation in its day, and it is still a bit of a shocker.
But it is far, far more in the way of a shocker than an art work. The moral is so darned obvious – we're slaves to our appetites – that all that is left is any crumbs of comfort in the shock and entertainment value. And four decades on there is precious little of either.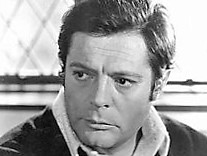 Co-writer/director Marco Ferreri can't kick it into the first league, and you feel sorry for actors as distinguished as Marcello Mastroianni, Philippe Noiret, Ugo Tognazzi and Michel Piccoli, who are left to make sense and significance of it as they wallow around in its excesses.
A curio, though, and a reminder of how grotty some of the Seventies ideas were.
The dialogue is by Francis Blanche, with the scenario and adaptation by Ferreri and Rafael Azcona.
© Derek Winnert 2016 Classic Movie Review 4194
Check out more reviews on http://derekwinnert