Krakatoa: East of Java *** (1968, Maximilian Schell, Diane Baker, Brian Keith, Rossano Brazzi, Barbara Werle, John Leyton, J D Cannon, Sal Mineo, Jacqui Chan) – Classic Movie Review 6251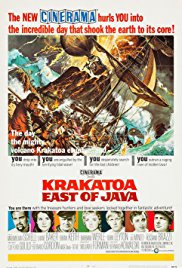 'The Incredible Day That Shook The Earth To Its Core!' Director Bernard L Kowalski's spirited, globe-hopping 1968 adventure movie offers a good-looking production, matchstick-thin characters, a handsome old boat and a fistful of vintage situations.
Intrepid Victorians set sail from Singapore aboard the Batavia Queen to find a capsised treasure boat, but they are confronted by the unexpected eruption of the volcano at Krakatoa. Maximilian Schell stars as Captain Hanson, the doughty man who leads the motley crew on a shipwreck salvage mission in The Dutch East Indies to retrieve the sunken treasure cargo of pearls in 1883.
It also stars Diane Baker, Brian Keith, Rossano Brazzi, Barbara Werle, John Leyton, J D Cannon, and Sal Mineo (born in the Bronx of Sicilian parents, playing Italian, for once, as Leoncavallo).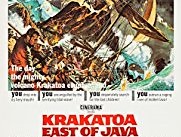 As usual with this kind of movie, almost all the money and effort seems to have been put into the action, special visual effects and set designs (magician Eugène Lourié was responsible for both of the latter two) – and it is all pretty well state of the art for its era.
Certainly less effort went into Clifford Newton Gould and Bernard Gordon's script's logic: Krakatoa is actually 200 miles west of Java. By the time the producers discovered the error, it was too late and too costly to re-do the advertising and publicity material.
Manuel Berenguer's widescreen filming can be a problem for TV showings. But, though it was shot in 70mm with huge, noisy Cinerama cameras for the vast Cinerama screen, it still looks okay on TV. The cameras drowned out much of the dialogue, which was all re-recorded in post-production.
It is sometimes shown on British TV under its alternative, reissue title of Volcano. It was re-released in Europe in the mid-Seventies with the addition of Sensurround.
Also in the cast are Marc Lawrence, Victoria Young, Robert Hall, Midori Arimoto, Niall MacGinnis, Sumu Haro, Mike Brendel, Joseph Hann, Geoffrey Holder and Peter Graves, as well as Jacqui [Jacqueline Chan] Chan (Trinidad-born, like Geoffrey Holder) as Toshi.
It is produced by William R Forman, scored by Frank DeVol, and Alex Weldon assists Lourié on the Oscar-nominated Best Special Visual Effects.
aged 83. He won the Best Actor Oscar for his performance in Stanley Kramer's Judgment at Nuremberg.
The Trinidad-born 84-year-old Geoffrey Holder died from complications from pneumonia on 5 . He memorably played Baron Samedi in Roger Moore's first James Bond film Live and Let Die.
© Derek Winnert 2017 Classic Movie Review 6251
Check out more reviews on http://derekwinnert.com