Kissing Jessica Stein **½ (2001, Jennifer Westfeldt, Heather Juergensen, Tovah Feldshuh, Esther Wurmfeld, Scott Cohen) – Classic Movie Review 4716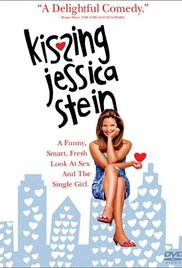 A meeting with a lesbian (Heather Juergensen) via a personal ad causes an unlucky-in-love New Yorker, Jessica Stein (Jennifer Westfeldt), to question her sexuality.
Jewish journalist Jessica Stein is searching for the perfect man when ironically and liberatingly she discovers the perfect woman as her intense new friendship with career woman Helen Cooper (Juergensen) leads to romance.
Director Charles Herman-Wurmfeld's well-meant but awkwardly handled 2001 romantic comedy of gay sexual confusion is literately written by its stars and decently played, with some amusing moments and a few interesting insights.
Also in the cast are Tovah Feldshuh, Esther Wurmfeld, Scott Cohen, Hillel Friedman, Ben Feldman, Robert Ari, David Aaron Baker, Jennifer Carta, Ben Weber, Brian Stepanek, Nick Corley, Jackie Hoffman, John Cariani, Carson Elrod, Michael Mastro, Michael Showalter and Michael Ealy.
© Derek Winnert 2016 Classic Movie Review 4716
Check out more reviews on http://derekwinnert.com