Kingsman: The Secret Service **** (2014, Colin Firth, Michael Caine, Taron Egerton, Samuel L Jackson, Mark Hamill, Jack Davenport, Mark Strong) – Movie Review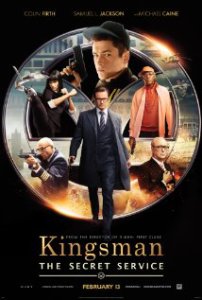 Director Matthew Vaughn's tongue-in-cheek post-modern spy thriller is based on Mark Millar and Dave Gibbons acclaimed comic book The Secret Service stars Colin Firth is a tailor-made role for him as impeccably suave veteran secret agent Harry Hart (aka Galahad). He's so very much in the style of Steed from The Avengers that you hope they've paid royalties.
Taron Egerton gets a peach of a part and is great as the London street kid, Eggsy, Galahad takes under his wing. Firth and Egerton get a very nice, likeable odd-couple vibe thing going that keeps the edgy film in friendly motion. .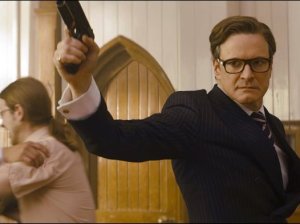 Galahad works for a super-secret spy organization that seems very much like The Man from U.N.C.L.E., with a boss called Arthur in the Mr Waverley style that gives some good work for an engaged Michael Caine that he grabs gladly. Galahad recruits an unrefined but promising street kid into the agency's ultra-competitive training programme just as a global threat emerges from a twisted tech genius.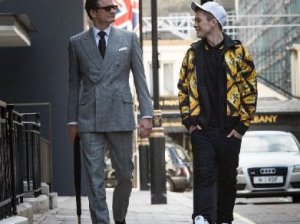 Written by Vaughn and Jane Goldman, the formula is very much the same as their Kick-Ass (2010) but with that one's young person's superhero comedy turned in a young person's spy comedy. That will please many people. It's a very witty and clever and exciting movie. But, as with Kick-Ass, Vaughn just doesn't know where to stop, crossing several lines again, but most notably when Firth's character eradicates the entire congregation of a church with maximum harm. I'm really not fond of all this killing and head slicing. It's not healthy, it's gratuitous, it's just not nice. My idea of fun stops just short of this.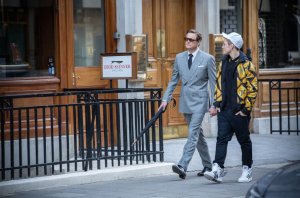 Other actors aren't really well used. Samuel L Jackson's camp, speech-impediment turn gets irritating well early on and he has nowhere to take it. [Spoiler alert] Mark Hamill, as James Arnold, gets killed off all too early on, and he's not well used, though it's still good to have him back on screen. And exactly the same's true of Jack Davenport's Lancelot. Mark Strong's Merlin is fine, though he is better in Kick-Ass.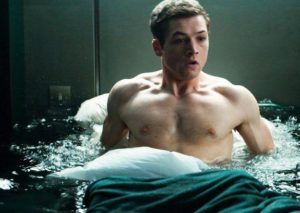 But it's all eyes on old smoothie Firth and cheeky chappie Egerton. In hugely skilled and charismatic performances, they put nice human faces on what could otherwise by a chilly and mechanical movie. Just like Aaron Johnson did in Kick-Ass. Vaughn directs with immense skill and verve, with a great comic book feel and look about it. Expect it to be a huge hit.
After Vaughn has completed his Fantastic Four reboot, he should try the same with League of Extraordinary Gentlemen.
© Derek Winnert 2015 Movie Review
Check out more reviews on http://derekwinnert.com/