King Solomon's Mines * (1985, Richard Chamberlain, Sharon Stone, Herbert Lom) – Classic Movie Review 5636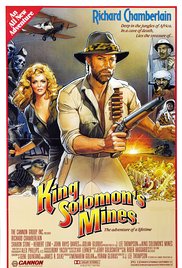 Richard Chamberlain (as white hunter Allan Quatermain), Sharon Stone as resourceful Jesse Huston, Herbert Lom as Colonel Bockner and John Rhys-Davies as Dogati are the stars in Golan-Globus's Cannon Group's tasteless 1985 rehash of H Rider Haggard's vintage swashbuckling adventure movie.
As usual, the white hunter is helping the woman to her find her father missing in the wilds of 1900s Africa, while this time being pursued by hostile tribes and the rival German explorer Bockner.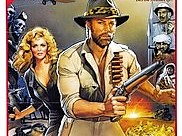 The tale's basic savagery is diluted here and any depth of story gets buried beneath a welter of knockabout action and arch, unappealing humour.
There are four very likeable stars and a capable director, but all involved seem intent on mining their own personal depths during the course of director J Lee Thompson's dense and pointless action adventure, making Rider Haggard's story seen past its sell-by date. Though everyone tries to access Indiana Jones, the screenplay by Gene Quintano and James R Silke is insipid and seems out of its time.
It is part one of a double feature filmed back to back, followed by Allan Quatermain and the Lost City of Gold (1986), also with Chamberlain and Stone.
Stone said her contribution to the two films was 'a bad hairdo running through the jungle.' She decided to join the cast of Police Academy 4: Citizens on Patrol (1987): 'Hanging out with a gang of comedians, it was the best therapy'.
It was first filmed in Britain as King Solomon's Mines (1937) with Paul Robeson and remade as King Solomon's Mines in 1950 with Stewart Granger.
© Derek Winnert 2017 Classic Movie Review 5636
Check out more reviews on http://derekwinnert.com