King Solomon's Mines **** (1937, Paul Robeson, Roland Young, John Loder, Anna Lee) – Classic Movie Review 5633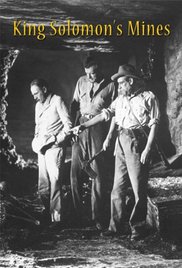 Paul Robeson's superlative performance (he even gets to sing) as hunter guide Umbopa, a mysterious exiled African chief who helps the explorers in their quest, lights up director Robert Stevenson's 1937 British movie of the rousing Rider Haggard novel about the search for a fabled lost diamond mine.
Heading a good cast, Hardwicke as white hunter Allan Quartermain [the film changes Allan Quatermain's name to Allan Quartermain] and Roland Young as Commander Goode also turn in outstanding performances, though John Loder and Anna Lee are unhappy as the young lovers Kathy O'Brien and Sir Henry Curtis, while further down the ranks some of the acting is rather ragged.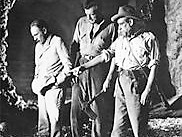 That is more than made up for, though, by the superb production by Gaumont British Picture Corporation, with location filming in South Africa and studio filming in the Gaumont British Studios, at Lime Grove, Shepherd's Bush, London. However, it is a pity that Gaumont British couldn't afford colour though. Cast members did not go to South Africa as stand-ins were used for the exteriors in KwaZulu-Natal.
Also in the cast are Arthur Sinclair as Kathy's father, fortune hunter Patrick O'Brien, Sydney Fairbrother, Robert Adams, Frederick Leister, Alf Goddard, Arthur Goullet and Frederick Leister.
It runs 80 minutes, is written by Michael Hogan, A R Rawlinson, Roland Pertwee, Ralph Spence and Charles Bennett, is shot in black and white by Glen MacWilliams, is produced by Geoffrey Barkas, is scored by Mischa Spoliansky and is designed by Alfred Junge.
The film was long thought lost for years, with the negative allegedly given to MGM when it acquired the rights in 1950. However, it turned up in Rank's vaults in Pinewood.
It was remade in 1950 as King Solomon's Mines with Stewart Granger and again in 1985 as King Solomon's Mines with Richard Chamberlain.
Anna Lee, who played Lila Quartermain, the matriarch in the TV soap General Hospital, requested that one of the characters on the show was named Allan Quartermain.
© Derek Winnert 2017 Classic Movie Review 5633
Check out more reviews on http://derekwinnert.com